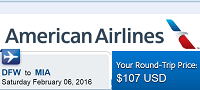 American Airlines has a sale on Cheap Non-stop Roundtrip Flights for as low as $107 to/from DFW – MIA for fares between February to April. As of the time of this posting, I saw several flights available one-way none stop for $54, reversible fare so you can get back to Texas with out breaking the bank. It's been a mild winter here but warm beach weather is always welcomed in my book. I like that American allows you to "Hold" a ticket for 24-hours before you commit to buying, if however you pay for a ticket on AA.com you will not be able to cancel without incurring a fee. Some third party sites like Orbitz will allow changes or cancel without penalty. Just look for the "Free Cancel" button next to the ticket fare. Priceline has a similar practice so shop around and look at flexible dates for the lowest prices possible. Keep in mind that if you don't book directly with AA you will not earn any AAdvantage Points for travel.
American Airlines Cheap Non-stop Flights:
Promotion: Non-stop flights to and from Dallas/Fort Worth TX and Miami FL starting at $108, fare is reversible and bookable February to June of 2016.
Valid: Limited time, while available.
Terms: AA.com allow you to "hold" an itinerary for approximately 24 hours. Once you book there is a fee for changes and cancellations.  Please visit AA.com to review all fare cost including taxes and baggage fees.
Maximize American Airlines Fare Deal:
First sign up for AAdvantage, American Airline's loyalty program to enjoy benefits such as earn points, perks, and reward flights. Members will always earn 100% base points.
Shop the Sale: YMMV! Choose your travel dates, usually weekdays excluding Fridays will give you the lowest fares. To save the most have flexible travel times, shift your dates by a day or two which will give you the cheapest price. Search one traveler first to see the lowest prices possible before you book.
Use AAdvantage Platinum Select Card to pay for your ticket, get the most from accruing points on AA flights!
Bottom Line:
Shop the American Airlines Cheap Non-stop Roundtrip Flights as low as $107 to and from DFW -MIA while it's available. It's always a good time to take a vacation and with trips to Florida you never need a vacation after your vacation. It's a laid back and leisurely trip filled with as much or as little activity as you want. Oh and all the great Cuban food you will have access to, take me with you!  Check out more ways to Save Money!