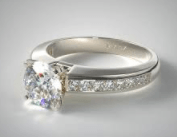 Shopping for diamond engagement rings can be a long process. There are so many ways to purchase, different rings, and diamonds to consider. If you've been looking at engagement rings for awhile and starting to realize that the pre made rings will not work, then the perfect solution for you is to probably just make your own ring! There is nothing wrong with customizing your engagement ring to be exactly how you would like it. In fact, it can have its own benefits to it!
Editor's Note: We have another guide on buying diamonds online. Be sure to check out our guide on "How to Buy Diamonds Online!"


At Blue Nile, their jewelry is designed and crafted with high-caliber, quality materials and inspected with exceptionally high standard.
• Highest Diamond Quality Standard & Authenticity Certified
• Get More For Less & Always Have The Best
• Best Price: Find a comparable GIA graded diamond for less and they'll match the price. Pay 20% up to 40% less than traditional jewelers


Why Should I Design my Ring Online?
Online diamonds are typically much cheaper than the traditional walk-in stores that sell diamonds. They offer a larger selection and they don't have to pay the costs of an expensive and glorified show room. Because of this, diamonds online are a bit cheaper! Additionally, you will be provided with much more information about the diamond from the descriptions to their qualifications.
Step 1: Buy the Right Type of Ring
There are many different types of jewelry to consider purchasing from wedding bands, rings, engagement rings, and promise rings. Each of them have a significant meaning and should not be confused. If you want to learn more about the differences, be sure to check out our post on "What's the Difference Between an Engagement and Wedding Ring?"
Step 2: Set a Budget
Don't go into the diamond market thinking that you need to buy the most expensive ring possible. A more expensive ring doesn't necessarily mean that it is the best diamond on the market. Consider how much your expenses should be for this ring and stick with it! If you need help with budgeting and pricing, be sure to check out our guide on "How Much Should I Spend on an Engagement Ring."
Step 3: Inform Yourself on Diamonds
Diamonds are probably a little more complicated than you think. There is a lot of care and inspection that goes into a diamond to figure out how much it costs and will look. One of the most important thing to understand is the 4 C's of diamonds. Applying and understanding the 4 C's are essential to buying a great diamond.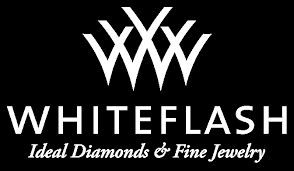 At Whiteflash, they're all about the Ideal Cut Diamond carrying the largest inventory & best selection of AGS certified ideal diamonds in the world!
• Exclusive provider of their own A CUT ABOVE® Super Ideal Diamonds
• Finest designer brands such as Tacori, Verragio, Simon G, Ritani, Danhov, Vatche, and Benchmark
• Entire staff GIA trained including several Graduate Gemologists & Diamond Graduates
• Complete Satisfaction Money Back Guarantee


Step 4: Shop from Well Known Retailers
One of the easiest ways to ensure that you are getting a good deal online is to just shop at a retailer that has a good reputation and is known for having quality customer service. The best retailers online are Whiteflash, James Allen, and Blue Nile. They are special in their own way and where you should start your search.
James Allen actually offers their own Online Ring Customization. It allows you to pick the setting and diamond that is placed on it. There are many ways to mix and match the combinations to make a diamond that is perfect for you.
Where Is The Best Place To Buy An Engagement Ring?
For
Diamond Retailer
Best Place To Buy Online
James Allen
Biggest Selection
Blue Nile
Best Diamond Cuts
Whiteflash
Step 5: Choose a Setting
The ring setting isn't the focal point of the piece, but it does play a large role in making your diamond sparkle. The setting you choose is all up to you! Here is what you should consider in your diamond's setting:
Band Thickness

Larger bands can make your diamond look smaller. Consider buying a thinner band ring to accentuate the size of the diamond.

Number of Prongs

Most diamonds come with 4-6 prongs to support and hold the diamond. A smaller amount of prongs can lead to your diamond appearing larger because of the amount of coverage the metal is covering on the diamond.

Single or Triple Stone

A single stone setting can look bigger than a triple stone setting with 2 other supporting gemstones. If you want all the focus to be on the diamond, get a single stone. If you want a very flashy effect, triple stone settings will look a bit more grandiose.

Metal Type

Ring settings come in many different metals. Consider buying one that won't affect the brilliance of your diamond. The main metals that are used in ring settings are yellow gold, white gold, rose gold, and platinum. Understand that not every metal will match your skin tone. White gold and platinum are not very good with darker skin tones. While a yellow gold would not fit well with pale skin tones. Rose gold is the only metal that looks good on any skin type.


At James Allen, their diamond and gemstone fine jewelry collection offers hand-crafted pieces of unforgettable luxury that are perfect for any occasion.
• Their mission is to offer consumers online the highest quality diamonds & largest selection at the best price.
• 150,000+ certified conflict-free diamonds, all photographed in 360° HD
• 24/7 Diamond Experts, with option for Real-Time Diamond Inspections
• Lifetime Warranty, Free Shipping Worldwide
• Hassle-Free Returns with 100% Money Back Guarantee


Bottom Line
If you have been searching for diamonds and still can't find a reasonable price for a good diamond. The best place to start or end your diamond searching journey, is to visit online diamond retailers. Online diamond shopping is your best bet because it offers a larger selection and possibly lower prices. When you go and purchase a diamond, be sure to follow these steps to ensure that you are on the way to getting a diamond ring for a reasonable price. In this post, we talked about James Allen. Be sure to check out our James Allen Review!