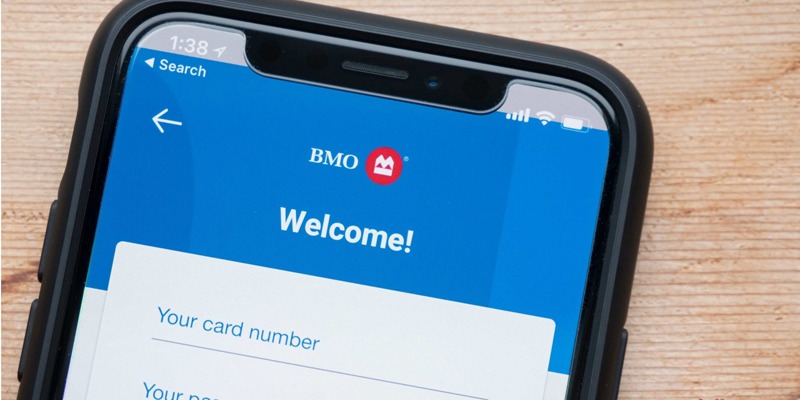 BMO offers a wide variety of accounts for you to choose from. Each account has different features ranging from basic accounts to those with advanced features and benefits, but with an added cost.
Read our guide to learn how to access and use your BMO Bank account and ways to take full advantage of its online and mobile banking services.
---
How to Log In from a Computer 
The best thing about online banking is quick and easy access to your account information at any time.
Go to bmo.com. 
Click the sign-in button in the top right.
Choose your account type in the drop-down menu. For example, as a personal banking customer, you may choose "BMO Digital Banking." 
Enter your user ID and password.
Click "Sign In." 
You can also click the button that says "Register" on the login page if you haven't yet used online banking with BMO.
---
How to Log In from a Mobile Phone or Tablet
If you're someone who would rather bank using their phone or tablet, BMO offers a free mobile banking app for both iOS and Android platform services!
Download the app via the App Store or Google Play
Once it finishes downloading and installing, open the app
Enter your username and password
Log in
With BMO mobile app, you get access to a variety of remote banking features, like:
Check your balance
View account activity
Transfer money
Deposit checks
Withdraw cash without your card
---
How To Retrieve a Forgotten Username or Password
You can retrieve your username or password easily if you've ever forgotten them, BMO allows your to reset them easily.
Password:
Go to the BMO homepage.
Follow the normal sign-in process.
On the login page, click "Forgot Password?" underneath the password field.
Enter your user ID and Social Security or Tax ID number.
Click "Continue."
Username: 
Go to the BMO homepage. 
Follow the normal sign-in process.
On the login page, click "Forgot User ID?" underneath the user ID field.
Enter your email address and Social Security or Tax ID number.
Click "Continue." 
---
How to View Your Bank Statements
BMO lets you access up to seven years of account activity through your online statements.
Log in to your account.
Go to the Accounts tab.
Select "Online Statements." 
From the drop-down menu, select "Account Statements." 
Select the account you want to see statements for from the drop-down menu.
Click on the statement you'd like to view.
---
How to Contact BMO with Account Problems
You can call this number to contact a representative 1-888-340-2265 for any troubles regarding your account.
For personalized customer service, you can call between the hours of 8 a.m. and 8 p.m. CT, all seven days a week. Even more, bankers are available 24/7 for lost or stolen debit cards, credit card account assistance and resetting online passwords.
Furthermore, you can also fill out this online contact form if you have a non-dire banking questions. A BMO representative will reach out to you within 10 days.
---
---
Bottom Line
Online banking can be beneficial for you because instead of having to visit a physical branch to conduct business, or mail out checks using the postal service, you can do it all on your computer or other devices.
In addition, check out the latest BMO Bank Promotions! Furthermore, if you're interested on banking with BMO read our BMO bank review and see if their services if what you're looking for.
Not your bank? If you're banking with another institution, you can check out our bank guide master list to help you with your banking questions or browse through our archives.