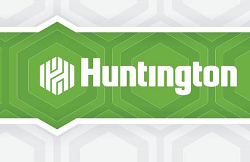 Now that you've settled down and opened a Huntington Bank account, it's time to deposit your money with Huntington Bank's ATM & Mobile Deposits. At Huntington, they understand that you're busy. That's why, unlike other banks, they give you up until midnight when depositing through their 1,800 (and growing) ATMs or with their Mobile App, available on iOS and Android, where you can make deposits all day, every day. Deposit hours that fit your schedule, so you don't have to rush to beat an early cut-off time.
Make ATM Cash & Check Deposits:
With Huntington Bank's All Day Deposit Services, you have access to nearly 1,000 branches and over 1,800 ATMs across eight Midwestern states. If you have the mobile app downloaded, you can look up which location is the closest to you. Huntington knows that not everybody has the same schedule. That's why with their extended depositing hours, you have until midnight to deposit, which is great for you busy beavers. Making ATM deposits are as simple as four easy steps:
Step 1: Bring your deposit. Don't forget to endorse checks.
Step 2: Deposit directly into a Huntington ATM. No envelopes or deposit slips required.
Step 3: Confirm deposit amount.
Step 4: Take your photo receipt.
Make Mobile Check Deposits:
The Huntington Bank Mobile app takes the great features from Online Banking into an easy-to-use tool. And since they're designed especially for your phone, they're easy to read and navigate, too. Whether you want to check your balance while shopping, pay a bill while waiting in line at the movie theatre, make a check deposit or just want to locate an ATM in a new town, now staying in control of your finances is just a few simple taps away. Be sure to Download the Huntington Bank Mobile App. Making deposits on your mobile device is also in four simple steps:
Step 1: Open and log into the Huntington app and select "Deposit."
Step 2: Select account to make deposit to, enter amount, and take a photo of the front and back of your endorsed check.
Step 3: Review confirmation and history of deposited checks in the app.
Step 4: Destroy your check within 14 days after the deposit is credited to your account.
Bottom Line 
No matter who you are or where you are, Huntington Bank is flexible enough for everyone. That's why Huntington Bank offers easy ATM & Mobile Deposits that suit you and your needs, for not everyone works the same schedule. You'll be able to deposit your money at their abundant ATMs across eight states until midnight every day, or if you don't have time to go to an ATM, you can download their app for easy check deposits. See what else Huntington has to offer by checking out our Huntington Bank Promotions.