For a limited time, IHG Rewards Club is offering up to 15% discount on points or cash spent on booking  if used before the deadline of August 7th, 2016. You can use this promotion to book hotels, but what we really recommend you doing is using it to purchase points! You can use this promotion to buy point to receive the 15% discount, and use it again to book to receive another 15% discount. That averages out to approximately 27% in discounts! Sign up today before this promotion ends!
Editor Note: Use your points If you're looking for an easier way to earn miles, we recommend signing up for the IHG Rewards Card. You'll get a sign-up bonus of 60,000 after you spend $1,000 in the first 3 months. This card has high sign-up bonus and relatively low spending requirement, perfect for anyone interested in the IHG Rewards Club.
IHG Points 15% Discount Bonus Info:
Account Type IHG Rewards Club
Maximum Bonus:  15% (possibly 27%)
Expiration Date: August 7th, 2016
Terms and Conditions: Please allow 4 to 6 weeks after Reward Night stay for rebated points to be deposited into your account, and 4 to 6 weeks after the date of redemption for all other (non-Reward Night) redemption items. A maximum number of points to be rebated not to exceed 100,000 points in a calendar year. IHG® Rewards Club reserves the right to reverse rebated points when redemption item has been returned.
How To Earn IHG 15% Points Back:
You must have a IHG Rewards Club membership in order to qualify for this promotion. If you do not have an account, we recommend signing up for the account as soon as you can.
Once you have an account, this promotion should be open for everyone, So make qualifying purchases before the deadline or August 7th, 2016.
We recommend you purchasing points with this offer, and then using the points to purchase any needs you require in order to save the most amount of money.
Allow 4 to 6 weeks to receive your points back. If you refund your order, your bonus points will be kept, but any cash you spent that is equivalent to the bonus will only be kept as points..
Bottom Line:
Using this promotion to save points from IHG Rewards Club is a great and efficent way to save money/points. We highly recommend you using the IHG Rewards Card to make your purchases. You can even get a sign-up bonus of 60,000 after you spend $1,000 in the first 3 months. Use these points wherever you go in order to save money. For more ways to earn points and miles, check out our master list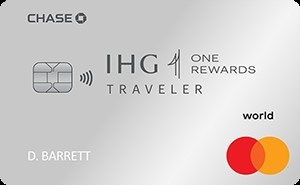 The  IHG One Rewards Traveler Credit Card offers 80,000 bonus points after spending $2,000 on purchases within the first 3 months of account opening. Plus up to $50 in IHG® statement credits on purchases at IHG® Hotels and Resorts during the first 12 months from account opening.

You'll earn up to 17X points total per $1 spent when you stay at an IHG Hotels & Resorts, 3X points per $1 spent on purchases at monthly bills, gas stations, and restaurants. 2X point per $1 spent on all other purchases.

This card has no annual fee or foreign transaction fees.

Member FDIC



Learn More About This Card Here