These flight deals just keep getting better and better. ANA Mileage Club just released a promotion where you can get 20% off mileage club miles. ANA, also know as All Nippon Airways, is the largest airline in Japan. If you currently reside in Japan, then you're in luck. Flights available are Phnom penh, Hanoi and China. If you're a smart noodle, you can fly to Japan and enjoy vacation for a bit, then fly to your choice of location at a affordable price, rather than spending more money on flight stops that are unreasonably priced. You must book your flight before March 8, 2018 and you can fly from February 1, 2018 through March 15, 2018. Book your flight today!
ANA Mileage Club Discount Mileage Promotion:
Promotion: get 20% off mileage club miles
Expiration: March 8, 2018
Availability: ANA airlines
Terms: ANA international flight awards cannot be used for codeshare flights with ANA flight numbers which are operated by other airlines (except for domestic flights). Passengers with itineraries containing domestic connections in Japan are also eligible for this campaign. You need to use the applicable flights for both outbound and inbound. Itinerary departing from outside of Japan is also applicable. Itinerary including other airline's flights (Partner Flight Awards) can not be apply this campaign even if it includes applicable ANA's flights.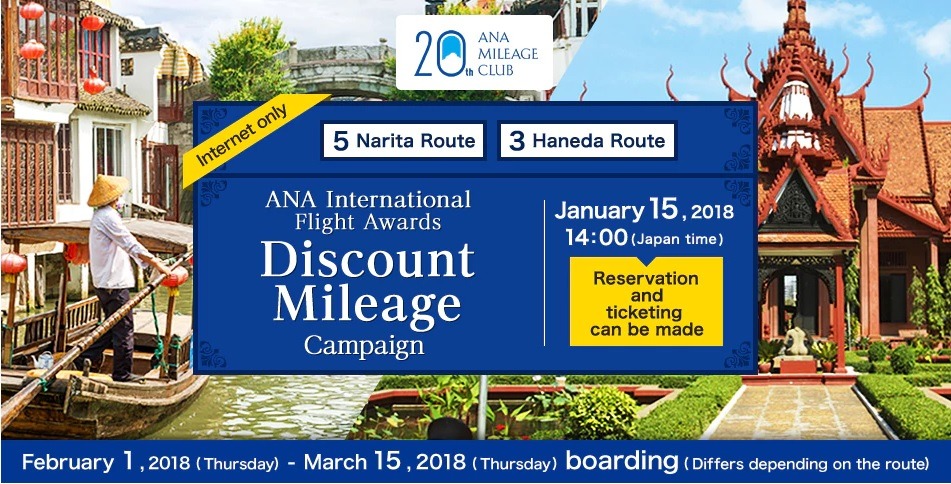 How To Get 20% Off Mileage Club Miles:
Sign into your ANA Mileage Club account or create one if you have not.
Book your flight before March 8, 2018. You can choose from Phnom penh, Hanoi and China locations.
You'll instantly save 20% off when checking out so enjoy!
Bottom Line:
How exciting is it to travel from Japan to somewhere else. Or better yet, maybe you're flying to Japan and want to continue your vacation. ANA Mileage Club is having a promotion where you can get 20% off mileage miles! If you didn't know, ANA is the biggest airlines in Japan. This is available till March 8, 2018 so make sure you book on time! Check out more ways to save money here on HMB.