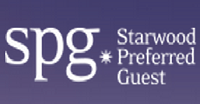 Free 200 SPG Points when you opt in for email, newsletter and other communications from SPG, valid November 24, 2015. Starwood Preferred Guest launched a new dash board and if you go to their page you will see a "Opt in and earn" button, if you are a member simply click "Update Your Account" you see a confirmation screen then you are done. Starwood Preferred Guest points are hard to earn as you can usually only get them from staying at the hotel or through credit card use. So this is a nice and surprisingly easy way to earn 200 points. Most people like SPG points because they transfer to a number of other airlines with a 25% and can be used for other hotels world wide. This Starwood points offer can only be earned once.
Free 200 SPG points:
Log into the new SPG Dashboard and you may see the offer. Opt in and you are done. (If you don't see the offer, its possible you have already opted in for their communications.) Follow the step below to force the offer to generate.
Click your name in the upper right corner
Click "my profle"
Click "communication preferences" and choose Edit.
Opt out "Starwood Preferred Guest E-Statements" and save changes.
Leave page and go into incognito mode.
Log back onto the DashBoard and you should now see the offer for the 200 Free points. Repeat the process if it doesn't work for you at first.
Bottom Line:
This is a quick and easy way to earn Free Starwood points to keep your points from expiring. It shouldn't take you more then a few minutes to earn your free points. Its not a lot but when it comes to SPG points, every little bit counts as they are not usually easy to earn without spending. When traveling book your hotel, flights and other expenses, I recommend to use the Amex Starwood Preferred Guest Credit Card to maximize your savings.