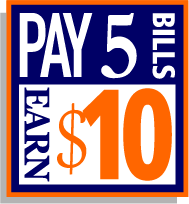 This new email I got from ING Direct once I logged into my account for a $10 billpay bonus. Simply pay 5 bill using the Bill Pay from your Electric Orange checkingand you get $10 in your account by Dec 31st. If you don't have an account with them, you can sign up for a $50 bonus.
From the FAQ about the offer:
"What types of bill payments are eligible for this promotion?"
Any bill that is set up to pay in Electric Orange Bill Pay with a Debit Date between 10/1/2011 and 11/30/2011. Bills paid from your checkbook, Debit Card, or Person2Person Payments are not eligible.
"What is the Debit Date?"
The Debit Date is the date you select to have the money withdrawn from your Electric Orange to pay the bill.
"What is considered a "paid" bill?"
A bill is considered "paid" when the payment shows up in the Transaction history on your Electric Orange account page. You'll see the payment in your Transaction History around 10 P.M. on your selected Debit Date.
"Does it count if I pay the same company multiple times?"
Yep, as along as the Debit Dates are between 10/1/2011 and 11/30/2011.
"When will I receive my $10?"
If you meet the requirements and your account is in good standing, $10 will be deposited into your Electric Orange by 12/31/2011.
Save yourself time by setting up Bill Pay with Electric Orange and they'll give you $10. No need for stamp or envelope ever again and saving you more money!