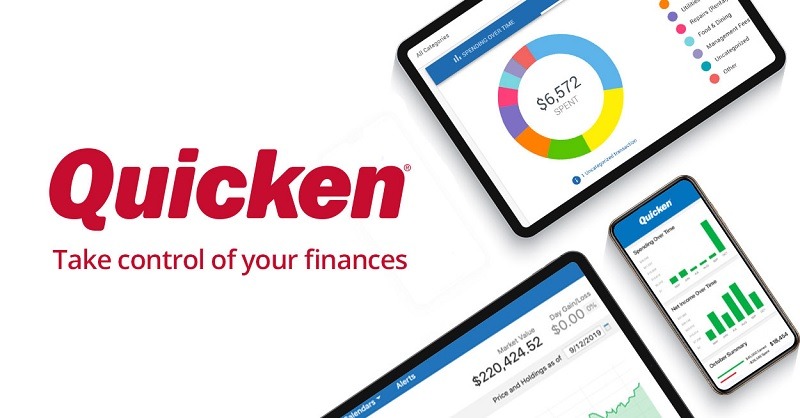 Quicken has been around now for many decades and is one of the most well-known personal financing softwares around. The platform allows for a complete financial solution, where you can connect to your many accounts, create a realistic budget, help you get out of debt, track your investments and plenty more. Continue reading to learn more.
See all the best personal finance apps here.
---
Quicken Features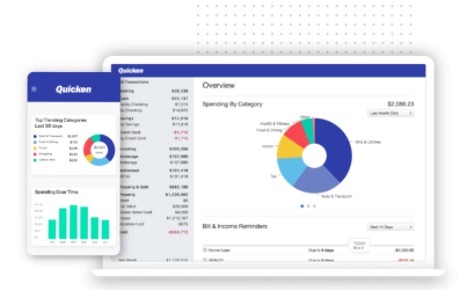 Quicken helps you take control of your finances with a consolidated view of all your accounts together. You'll be hard-pressed to find a more comprehensive personal finance management software on the market. Features include:
Easy-to-use layout with a customizable Home tab, as well as tabs for Spending, Bills & Income, and Financial Planning.
Synchronization with your bank and investment accounts (optional), so balances, transactions, and investment performance are uploaded automatically. Data can also be synced between the Quicken desktop, mobile and web versions.
Projected balances based on upcoming bills, so you have a better idea of how much money you'll have at a given time.
Built-in debt reduction tools, including projected impact of extra debt payments and how much you'll save in interest.
Automatic net worth tracking on the sidebar that updates with every new transaction and every time you make changes.
5GB of free Dropbox cloud storage for backups.
Mobile alerts for account changes, upcoming bills, and more.
Tips and tutorials for information on Quicken and personal finance management.
And if you need any help, customer service is available via chat and phone.
(Click the link above to learn more about Quicken)
---
Quicken Plans & Pricing
At the time of writing, Quicken plans and pricing are as follows:
Bonus Available
STARTER
DELUXE
PREMIER
HOME &
BUSINESS
Annual Pricing
$35.99
$46.79
$70.19
$93.59
Track, budget & organize your personal finances
Yes
Yes
Yes
Yes
Bill tracking
Yes
Yes
Yes
Yes
Bill pay
$9.95/mo
$9.95/mo
Yes
Yes
Track loans, investments & retirement accounts
–
Yes
Yes
Yes
Advanced investment & tax planning
–
–
Yes
Yes
Business & property management
–
–
–
Yes
All plans come with a 30-day, money-back guarantee. You can return Quicken within 30 days or change your plan at any time.
---
Quicken Limitations
Before you sign up for Quicken, make sure to factor in the following:
Compared to other personal finance software, like Mint.com, Quicken is relatively expensive.
There have been reports that Quicken doesn't sync with certain banks easily. Keep in mind, you can take advantage of the 30-day, money-back guarantee if you run into this problem.
Quicken can be overwhelming with all its tools and features. If you're only looking to spend ten minutes a week tracking your budget, we recommend Simplifi by Quicken instead.
Quicken for Mac has less features than Quicken for Windows. With the Windows version, you can easily export to Excel, generate a balance sheet report, access the Morningstar Portfolio Instant X-Ray tool, and get a free credit report. Quicken's business features are also only available to PC users.
---
Bottom Line
Quicken is a great way to manage both your budget and investments, allowing you to see all your money in one, convenient place. We recommend it if you are detail-oriented, a business owner, or an investor who budgets.
Looking to primarily manage your investments? Check out Personal Capital. Their financial tracking tool is free, and it lets you track your overall portfolio performance, net worth, retirement progress and more.