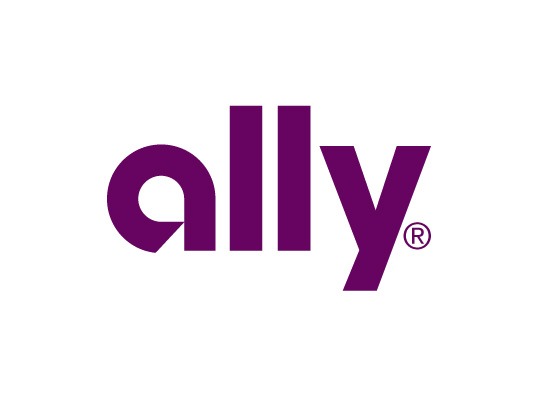 Ally Bank is the 3rd largest internet bank, and the 22nd largest bank in the U.S. with 2.1 million customers. They are an award winning online bank with an "A+" grading online. Ally Bank has recently increased rate of CDs, and they are currently offering up to a 1.70% APY for a High Yield 18-Month CD with a minimum deposit of $25,000. With deposits below $5,000 they offer 1.50% APY and above $5,000 with a 1.60% APY.
Why Choose Ally:
With Ally Bank High Yield CD your money will grown faster as interest is compounded daily. You can get the best rate they offer for your CD term with the Ally Ten Day Best Rate Guarantee, which offers you the best rate possible when you fund your CD within 10 days of your open date. Your deposits are also insured by the FDIC. Ally Bank also does no charge maitenance fees for Ally Bank CDs and there is a 10 day grace period to withdraw any money. Accessibility is also no issue as you can keep track of your account online or on  your mobile.
What is a Certificate of Deposits(CD):
Certificates of Deposits are a certificate issued by the bank to a person depositing money for specific length of time. They're different from a regular savings account, as with a savings account you can deposit and withdraw whenever you want to but for a CD you agree to keep your money there for a specific amount of time. CDs are a way to earn a higher return on your money without a lot of risk, as many are backed by the Federal Deposit Insurance Corporation.
Ally High Yield CD 18 Month Rate:
To make the most money possible you should make a deposit of at least $25,000 to earn Ally Bank's 1.70% APY with Ally Bank's High Yield CD. Compared with American Express, PNC Bank and Bank America, Ally Bank has a higher APY rate than all of their APY rates combined with their CDs.  Compared to American Express' 18 month CD, you'll earn almost $300 more with Ally Bank, with American Express your estimated earnings will be $226.01 compared to Ally Bank's $511.40. Though Ally Bank and Capital One offer the same rates and have the same estimated earnings, Ally Bank was built online for convenience and for the highest rates possible as they eliminated the costs of in person banking to give us the best APY possible.
Other Bank's CDs: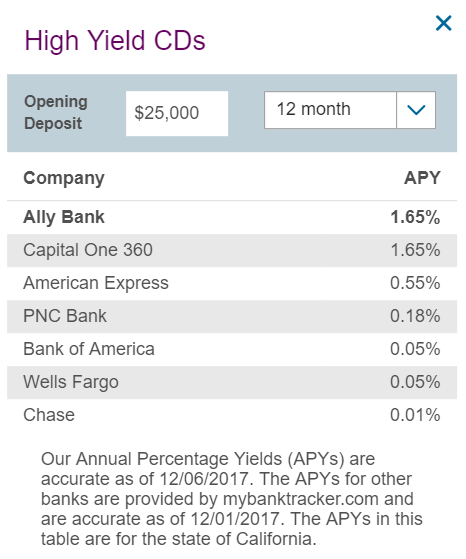 Bottom Line:
If you're planning on choosing a Bank's CD, then make sure to select Ally Bank's High Yield 18-month CD for 1.70% APY with a minimum of a $25,000 deposit. With deposits less than $5,000 they offer a 1.50% APY and a 1.60% APY with deposits that are at least $5,000.  Ally Bank is one of the largest online banks and attracts customers by offering simple, transparent products with competitive rates. Visit our table for the best bank rates now!