Amazon and the Federal Trade Commission have recently reached an agreement and is refunding unauthorized in-app purchases made by kids. These include purchases made between November 2011 through May 2016. During this this time Amazon didn't require a password for in-app bonuses which allowed children to make purchases without their parents permission, only in 2012 was a password added but only for purchases over $20 or more. Amazon is currently sending out email for those who might be eligible and has also provided a link to do so. If your child had made a unauthorized purchase on your amazon app, then be sure to check if you're eligible for a refund!

Amazon Refunding In-App Purchases:
Offer: Refund on In-App Purchases
Expiration: May 28, 2018
Requirements: Must have had an unauthorized in-app purchase
What To Do: Go to the Amazon Refund Orders Promotion Page and check if you're eligible for a refund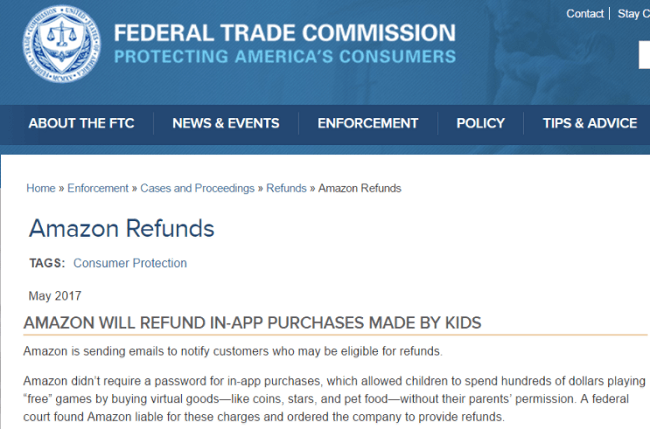 Get Amazon Unauthorized Purchase Refund:
Go onto the Amazon Refund Orders Promotion Page
Log into your Amazon Account
Check if you're eligible and follow the instructions provided
Receive your refund!
Bottom Line:
If your child under the age of 18 made an unauthorized purchase on your Amazon account then make sure to take advantage of this refund on unauthorized in-app orders. Amazon has been sending out emails for those of you who are eligible and have provided a link to see if you're eligible. Log into your Amazon account today and check if you're eligible for a refund by May 28, 2017! Check out more ways to get Free Money!