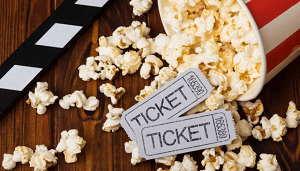 Movies these days just keep getting more expensive and don't forget that's on top of the ridiculously overpriced popcorn and concession stand prices. To help you save money at movie theaters – we have tips, tricks, discounts and more listed below! Check out ways to save on your next ticket to food purchase at your local theater. Many theaters have loyalty programs where you can earn points to get discounted concessions, or sign up for a subscription Movie Pass where you can save on future tickets you purchase. Check out ways to save money at Movie Theaters below!
Save Money at Movie Theaters:
Movie Passes
Free Loyalty Programs

AMC – Become a member of the AMC Stub Insiders Rewards program. Get you can $5 Ticket Tuesdays, a free large popcorn on your birthday, a free refill with large popcorn purchase, a $5 reward every time you reach 5,000 points, exclusive offers, and more.
Atom Tickets –  Get a free Standard Movie Ticket (up to $20) when you buy tickets to four different movies with their loyalty program
Cinemark – Get exclusive savings at the concession stand, early access to advance tickets, be able to enter contests and sweepstakes, and more with Cinemark Connections.
Regal Theaters – Sign up for their Regal Crown Club to earn points toward free movies or concessions. Get 25% off candy on Mondays and 50% off popcorn on Tuesdays with paid admission.

Paid Loyalty Programs

AMC Stubs A-List – For $19.99 a month, see up to 3 movies every week with premium formats such as IMAX, Dolby Cinema, PRIME, RealD 3D, BigD and D-Box at any of their U.S locations. This memberships also includes AMC Premiere.
AMC Premiere – Get AMC Premiere perks such as a free size upgrades on popcorn and fountain drinks. Also earn 5x points faster than Insiders for $15 a year.
Cinemark –  For $8.99 a month to join the Movie Club and get one 2D ticket per month (unused credits roll over), 20% off concessions, waived online fees, and $8.99 add-on tickets.

Discounts

Cinemark – Get discounted tickets with military, seniors, students, early bird options, and more at select days, just click on you location and see what's available.
Regal Theaters – They offer Value Days where you can get discounted tickets depending on the theater and their location.

Alternatives

Hulu – Stay home and avoid theaters while enjoying movies from home with Hulu, where you can watch unlimited shoes to movies for one monthly price.
Netflix – Sign up for a media service provider where you can watch unlimited shows to movies for one price.
PayPal – Currently, PayPal is offering $3 Off 2+ Movie Ticket Purchases with Fandango through June 25, 2018.
Bottom  Lines:
This summer is filled with many highly anticipated blockbusters! Check out all the newest movies and save money at theaters with our tips, tricks, discounts and more listed above! Sign up for all their loyalty programs available and/or Movie Passes subscriptions to save some cash in the long run. Places such as AMC offer several kinds of programs where you can even sign up for a subscription to get 3 premium formats of movies a month. Check out more ways to save money, here on HMB!