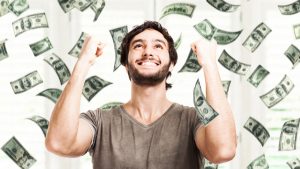 Do you like earning money? Would you like to learn more tips and advice on how to? Then look no further because we will be sharing top ten ways to make money online! This is great for those who want to earn a little bit more money on the side. From taking online surveys to little tips that you can do from your phone, there's no way you can't earn extra money. You'll be able to go on with your normal life while earning some extra cash that will go a long way. These top ten tips will help ease your troubles!
10 Ways to Make Money Online:
1. Online surveys: Taking online surveys is one great way to earn money. You'll be completing free offers and get paid without spending a dime. Doing offers, surveys, and shopping online are great ways to start earning money with CashCrate. They also offer a referral program where you'll get paid 20% of what your referrals make and 10% of what their referrals make. As you refer more users to , these levels increase until you're earning as much as 30% of your referral's earnings and 20% of their referral's earnings.
2. Sell Your Stuff: This tip is a no brainer but a lot of people fail to acknowledge this money making deal. By selling your stuff online, you'll earn more cash to add to your wallet. Sign up with a trust-able account such as eBay or Amazon, and promote your items online! Make sure to take good photos to enhance the quality of your item, which will increase the chance of earning more money. One good tip with selling your stuff online is to be descriptive and honest. Consistency and honesty will not only attract more users, but you'll also earn their trust meaning that they'll come back to you to buy more items.
3. YouTube: We all know what YouTube is but little do you know that you can also earn money too. Just simply record a video and upload online.  If you enable advertisements on your videos, you can earn money at a rate of about $1 to $3 per 1,000 video views. The more videos the have, the more views you can increase, so this option really pays off if you record a lot of videos. Famous YouTubers such as Pewdiepie, Michelle Phan, and Zoella are full time workers with YouTube, earning up to six digits or more!
4. Fiverr: A site where people upload jobs they're willing to do for $5 or more. These jobs are fairly easy from writing a blog post or designing a banner. Fiverr offers many categories to choose from and take little time depending on your job. These tasks are things you can easily do on the couch in your spare time. A great example was when my best friend ordered a Hawaiian guy to eat a watermelon on video, and asked her prom to date all for $10.  It was extremely funny but it was also a quick way to earn money for the Hawaiian guy.
5. Review Music: If you love music then you'll love this option. You'll be listening to music from unsigned bands and artists online for cash. Slicethepie is a  wonderful site that offers this job where you're basically getting paid to sit down and listen to music, while earning extra money. Though it can take a while to build your reputation, but totally worth the time. This involves little work which is great for those that are extremely lazy as well.
6.  Blogging: Do you enjoy writing? Then having a blog is great way to earn extra money. If you have the patience, persistence and discipline, then you can make big bucks with blogging. It takes time to build your brand and reputation but if you are motivated enough, you will have great benefits with blogging. You can advertise products which will attract companies as you do more, to the point that you can be affiliated with them or have them pay you to promote their products! If you also include sponsors, they can pay you to publish an article about their companies as you do more blogging.
7. Sell Your Notes: A trick that I learned in college was to sell my notes online. I wished I learned this earlier because this will help a lot with earning money. I've sold from chemistry notes to art history notes for $50 or more. It really did help me earn extra cash. So don't throw your notes away! Start saving them and sell them for big bucks because college students are extremely lazy and desperate your notes. You'll be surprised at how much you can sell your notes for!
8. Sell Your Photos or designs: If you're into photography then selling your photos is a great option. Sell your photos onto websites such as Fotolia, where people can buy it off to use. From vectors to photographs, upload your work and people will request to purchase your work. But if you're also into designs, you can sell your graphic for people to use too. So many people nowadays are too lazy to create their own graphics so they resort to websites like these. It's a great tip to earn money if you have the skills to photograph or design.
9. Online Assistant: This may be the most time consuming though it is efficient in the money making department. You'll be paid to work for someone online and complete their tasks for hourly rates. For example, Zirtual,  your boss will send you things to do such as write emails, research a topic and summarize the findings, or personal tasks such as order flowers, manage a personal calendar or write handwritten notes. Hourly rates can start at $6 or more depending on your experience and skills.
10. Email Marketing: For those serious about making money online, email marketing is where it's at. Before you start marketing, be sure that the people you subscribe to are honest and trustworthy. Active subscribers or companies will hire you to create emails to market what they choose to. The more you do this, the more it'll attract companies that will reach out to you and can possibly pay you more as your experience increases. 
Bottom Line: 
These top ten tips to earn more money will help to start off your new year right. From taking online surveys to listening to music and writing reviews, possibilities are endless. Some of the tips don't require a lot of effort for those who are lazy and desperate to earn more cash fast. Make sure to take advantage of promotions and offers to build up your reputation online and experience as well. These tips will help to ensure that you make money in the best possible way!