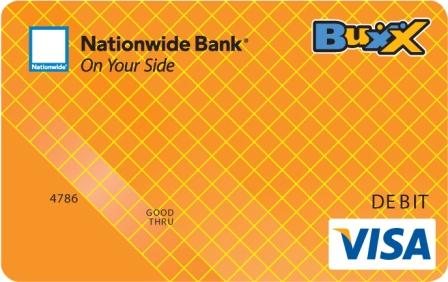 There is a Nationwide Bank Buxx Card promotion for a $50 bonus using offer code 02010059 when you sign up for a new Buxx Card. When you sign up, the initial load has to be a minimum of $25 to get the $50 bonus automatically loaded on card. You load using a debit card or credit card. They charge $2 to load plus a potential $5 account set up fee so there's a $43 profit from this promotional offer. You don't have to be member of nationwide bank. I just signed up myself and it only took about 15 minutes. This is an easy way to get $43 so hurry and sign up while this offer lasts.
How to Claim This Offer:
Go to the Visa Buxx page and click Enroll
Sign up as a PARENT to claim the offer
Follow the steps to create an account
Once you finish making an account, click on the "Add New Teen" Tab
Use any information to "add a teen." You can just use your own social security number again to add a teen.
When you come to the box that asks your for a promo code, use the code: 02010059
Make an initial load of at least $25
Wait 5 to 7 business days for your Buxx card with a $50 bonus to arrive in the mail
Again, Visa Buxx Cards are offering a $50 bonus when you load a new card with at least $25 and use the promotional code 02010059 when adding a teen. The only minor setback is a $2 fee for loading a card and a potential $5 account set up fee, but otherwise this is a great, simple offer that's worth $43! It'll only take a few moments of your time so hurry and sign up today.

Find more ways to make money online!