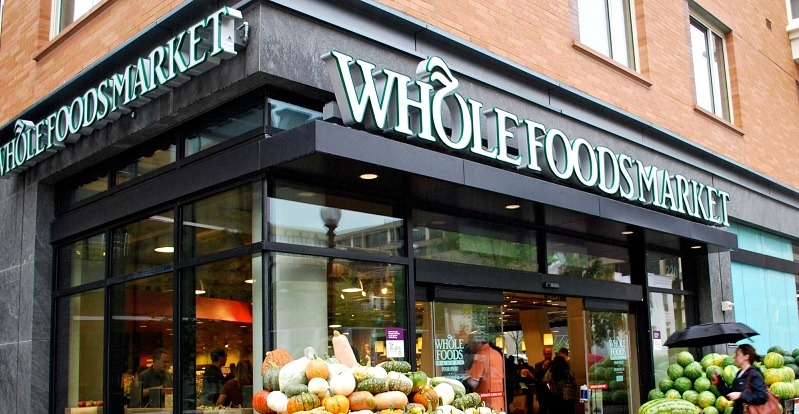 Whole Foods is your go to market if you're a fan of locally sourced produce as well as organic foods. On top of their wide selection of exotic foods, there is also a variety of health products you can get to help make you feel good.
In addition to their offerings, Whole Foods is committed to making sure their customers save money. If you're a fan of this organic food grocer then check out our offerings below.
---
About Whole Foods
---
Whole Foods Market Inc. is an American multinational supermarket chain headquartered in Austin, Texas, which exclusively sells products free from hydrogenated fats and artificial colors, flavors, and preservatives. Known for their wide selection of organic foods, they are even a USDA Certified Organic Grocer. Whole Foods has 500 stores in North America and the United Kingdom as of now.
---
Current Whole Foods Promotions
---
Prime Members Get $15 Discount When Spend $100+ at Whole Foods
If you're an Amazon Prime Member, see if you've been targeted for a $15 discount at Whole Foods stores. All  you need to do is spend $100+ at any Whole Foods Market or on Prime now. Simply scan your prime code in stores or give the phone number linked to your account to take advantage of this promotion.
Offer expiration: December 16, 2019
What you'll get: Prime Members Get $15 Discount When Spend $100+ at Whole Foods
Who is eligible: Targeted Amazon Prime Members only
Where it's available: Whole Foods Market
How to earn it: 

Check if you have been targeted for this promotion
Spend at least $100 at any Whole Foods Market
Scan your Prime Code in-store at checkout or provide your linked Prime phone number at checkout!
(Visit the link above to locate the nearest Whole Foods Market near you)
---
$10 Off Your Next Order (Expired)
Valid for a limited time, Whole Foods is offering a $10 card to use towards your next order when you apply promo code "10WFM". This will allow you to get a free 2-hour delivery. Keep in mind that terms and conditions apply.
Promotion: $10 Off Next Prime Now/Whole Foods Order
Promo Code: 10WFM
Expiration: Limited time offer
Availability/Location: Offer available to Amazon Prime Members; only applies to products purchased through Prime Now that are sold and shipped by Amazon.com
Terms & Conditions: Must use code 10WFM to obtain offer. Restrictions apply. Exclusions apply.
(Visit Whole Foods for more details)
---
Bottom Line
If you've never tried Whole Foods out, check out their wide selection of organic foods. If you want to experience the benefits of eating organic food, then be sure to come back to this post often to see all of the latest deals available.
Check out more ways to save money with our updated listings! For even more savings, check out our list of the Best Gift Card Deals!