Very recently Microsoft has released their Xbox All Access Promotion where customers can subscribe to them and receive an Xbox One S, 24 months of Xbox Live, and 24 Months of Xbox Game Pass for only $21.99 per month for 24 months! There's also a concurrent deal where you can get an Xbox One X and the same Xbox live and Game Pass deal for $34.99 per month. According to Microsoft, these deals are available until December 31, 2018 or while supplies last. With the current market prices, if you were to purchase these items new and upfront, they'd cost around $660 and $860, respectively. With this subscription, the total cost after the 2 years comes out to $528 for the Xbox One S and $840 for the Xbox One X. To us, the Xbox One S subscription deal is your best bet if you want to save money. In order to take advantage of this deal, you must visit a store near you and pick your favorite Xbox bundle. There are no upfront costs and no APR so you can walk home that day with your new Xbox One without paying a dime. Don't miss out on this amazing deal that Microsoft is offering to their customers. It's a chance to save money on a brand new console and gain access to hundreds of games through their Xbox Game Pass.
Xbox All Access Promotion:
Promotion: Xbox One S Console, Xbox Live, & Xbox Game Pass for only $21.99/month
Expiration: December 31, 2018 or while supplies last
Availability: In-store at participating locations
Terms: No interest charged on promotional purchase if total purchase paid in full within 24 months. Available at time of purchase from 08/27/2018 through 12/31/2018, while supplies last. Monthly payments required. Purchase amount divided into 24 substantially equal monthly payments, rounded up to next dollar. Outstanding balances at end of promotional period are subject to terms of Credit Agreement for existing accountholders.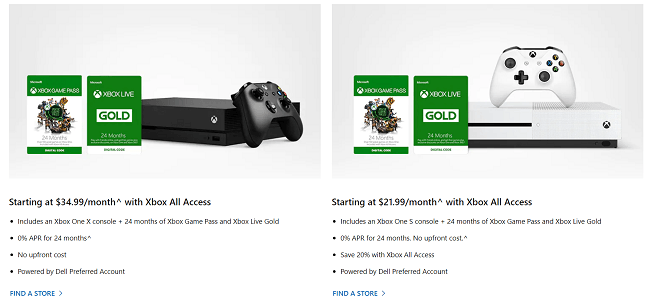 How to Get Xbox All Access:
Visit the Microsoft website and find a store near you
At the store, choose your Xbox bundle of choice
Apply for a dell preferred account and walk out the the store with no upfront costs!
Bottom Line:
If you've been wanting to get an Xbox One, this Xbox All Access Promotion is perfect for you. Microsoft is giving their customers a chance to get an Xbox One S, 24 months of Xbox live, and 24 months of Xbox Game Pass all for only $21.99/month for 24 months. You can also get the same deal except with an Xbox One X for 34.99/month for 24 months! This 24 year payment will cost less than paying for everything upfront after 2 years of payments. Microsoft says this promotion is set to end on December 31, 2018 or while supplies last, so be sure to take advantage of it while you can. We wouldn't want you to miss out on this chance to get your favorite console at a great price. If you love finding deals like this, be sure to check out HMB and our posts on others ways to Save Money!