Are you with Sprint?  If you are not, then this method will save you as much as 25% Sprint Discount on Sprint and Nextel Service forever. You and anyone can now join Sprint SERP program whereas the saving is much better than regular Sprint plan. The Sprint Discount Plan Promotion with up to 25% off  is now available for all customers.
To find out how you can up to 25% off on your Sprint Discount plan, you must do the followings:
Sign into your Facebook and "Like" HustlerMoneyblog page.
Sign up for Mr. Rebates (Cashback shopping site with free $5 bonus).
And finally, enter your email to subscribe to our newsletter.

Then email [email protected] with the following information to discount offer.
Subject Title "Sprint Discount Offer"
In the email, List out 1) your facebook screenname 2) your email for Mr. Rebates and Subscribing.
I will only send you the sprint discount offer once you follow the above steps.
*HOT DEAL ALERT* Looking for a CitiBank Bonus? You may be interested in the Citi ThankYou Premier to go along with your banking needs:
Chase Sapphire Preferred® Card offers 40,000 bonus points after you spend $4,000 in purchases within the first 3 months. With 40,000 bonus points, you can redeem for $500 towards airfare and hotel accommodations. You can earn an additional 5,000 bonus points after you add the first authorized user and make a purchase in the first 3 months from account opening. Earn 2x points on travel, 2x points on dining at restaurants, and 1 point per dollar on all other purchases. Your points go far since you get 20% off travel when redeemed thru Ultimate Rewards. All Chase Sapphire Preferred cardholders enjoy travel benefits and a direct access to a live adviser 24 hours a day. No foreign transaction fees, plus Chip and Signature enabled for international travel. The annual fee of $95 is waived for the first year of card ownership. Apply Now---

Chase Sapphire Preferred Review
If you been wanting an Iphone 5 plan with unlimited data, it's best you join Sprint ASAP. For an iPhone 5 plan, you will be paying $70 + tax. That's a lot cheaper than Verizon or AT&T. With a SERP family plan, you can get up to 5 iPhones with an average cost of $50 per month per phone for unlimited data!
"Everything Plus Data Share" (EPRP) $10 add-on included for Smartphones:
x1 phones = $69.99/mo
x2 phones = $129.99/mo
x3 phones = $154.98/mo
x4 phones = $179.97/mo
x5 phones = $204.96/mo
*Plus Taxes and Fees
You might wonder, what if I'm already a Sprint customer. Well, now you can save as much as 27% on your phone bill depending on your employer:
Copy and Paste:
For new sprint customers:
http://sprint.p.delivery.net/m/p/nxt/dev/verify_form.asp
For current sprint customers:
http://sprint.p.delivery.net/m/p/nxt/dev/discount_form.asp
Make sure if you fill it out correctly and get employer discount on your bills each month.
Credit Union Member 10% Discount Program
http://www.pcsorders.com/cu/index.php?p=works
Sprint Student Rate Member Discount(up to 23%)
visit studentrate.com for more info
Ph. 781-497-5178 or 781-497-5050
Continue to stretch out your cash by saving money online!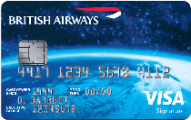 British Airways Visa Signature® Card offers 50,000 BONUS AVIOS after you make $2,000 in purchases in the first 3 months of account opening! Earn Avios with every purchase then use your bonus Avios towards rewards flights. No foreign transaction fee when you make purchases abroad. You will also get 2.5 Avios for every $1 spent on British Airways purchases and 1.25 Avios for every $1 spent on all other purchases. Every calendar year you make $30,000 in purchases on your British Airways Visa card, you'll earn a Travel Together Ticket good for two years. Chip with Signature Technology allows you to use your card for chip based purchases in Europe & beyond, while still giving you the ability to use your card as you do today at home. There is no annual fee for the first year, then $95 afterwards. Apply Now---

Chase British Airways Review