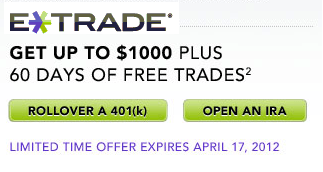 E*TRADE is now offering up to $1,000 in cash bonus rewards for opening a new IRA or rollover a 401(k) good until April 17, 2012. Not only do you get up to $1,000 in bonus cash, account members also get 60 days of free trades with your E*TRADE IRA. To earn the ETRADE $1,000 IRA Bonus, you must deposit $250K or more from an external accounts within 45 days of account opening. Here's the bonus amount chart:
$250,000 or more will receive $1,000.
$100,000 to $249,999 will receive $500.
$50,000 to $99,999 will receive $200.
$25,000 to $49,999 will receive $100.
Account Features:
No annual IRA fee. No Minimums– So you keep more of your money.
Tools to Diversify Effectively– Everything you need to build a well-diversified portfolio.
A Full Range of Investments– Including stocks, bonds, ETFs and over 8,000 mutual funds, including 1,300 no-load, no transaction fee mutual funds.3
Retirement Calculator– Find out what you need to save and get a personalized action plan.
Complimentary Retirement Guidance– From Chartered Retirement Planning CounselorsSM4 who can help you create a retirement plan, allocate your assets, and consider all your distribution options.
Professional Management of Your Investments– Professionally selected and managed portfolios priced for the individual investor from E*TRADE Capital Management.
Very important– The new funds or securities must remain in the account (minus any trading losses) for a minimum of 6 months, or the credit may be surrendered. There is a limit of 1 promotion per customer.
The fine print:
You will receive up to 500 trade commissions for each stock or options trade executed within 60 days of the deposited funds being made available for investment in the new account (excluding options contract fees). You will pay $9.99 for your first 149 stock or options trades and $7.99 thereafter up to 500 stock or options trades (plus 75¢ per options contract). Your account will be credited for trades within a week. Account must be funded within 60 days of account open.

Credits for cash or securities will be made based on deposits of new funds or securities from external accounts made within 45 days of account open, as follows: $250,000 or more will receive $1,000; $100,000-$249,999 will receive $500; $50,000-$99,999 will receive $200; $25,000-$49,999 will receive $100. Your account will be credited within one week of the close of the 45-day window.
Quick Tips:
If you do this deal, it's great to get the $1000 bonus if you going to trade anyway. Make sure to ask them to give you $4.95 trades for life to match with Merrill Edge $4.95 trades promotion.
The highest return for this offer is achieved exactly at 100K ($500 = .5%) along with no 1099 due to the bonus below $600. Hence, this amount to a 1% return for the 6 months commitment. This is probably better than any nationwide 6-month CD available today!
According to E*TRADE, there's a soft inquiry for all accounts, hence no hard inquiries.
Promotion will end soon, so take advantage of this $1,000 ETRADE IRA bonus offer today!