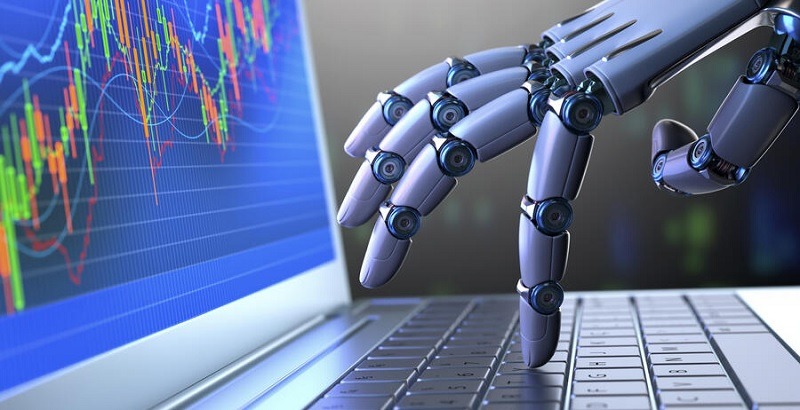 Robo-advisors are online tools programmed with algorithms to build the right portfolio for your profile. It selects good investment portfolio to fit your financial needs and wants! With this tool, you can have a middle ground from doing it to yourself and to hiring a human financial advisor.
So once you invest your funds, the automated advisor makes changes to your investments when it sees fit and aligns your portfolio back to a targeted designation for you! Many will purchase exchange-traded funds on your behalf, so all you have to do is tell your robo-advisor your financial goals and how much you are willing to risk. Then you can just relax and let your money go to work with minimal thought and effort!
So if you want to get in on the robo-advising game then keep reading below and check out the breakdown of the best robo-advisors that's currently on the market!
Why Consider Robo-Advisor?
Although the program is not free, Robo-advisors will perform difficult tasks like tax optimization and portfolio re-balancing automatically, which means higher net returns for you.
Robo-advisor is a good fit for you, if you prefer to have every little involvement in your investments and would rather have someone else doing all the work. If you don't have quite enough assets to hire a human financial advisor and if you have a simple financial profile that doesn't need the expertise of a human advisor then this is a great option for you!
Factors To Consider
Management fee: This is paid annually and the fee is usually a percentage of your assets with your robo-advisor! So if you're annual return is 7% and your management fee is .25%, then your gross return that year will be 6.25%. This fee is deducted from your account balance!
Expense ratio: This amount goes towards the investments your robo-advisor utilizes, like mutual funds, index funds, and exchange-traded funds (ETFs), to cover their costs.
Account types: Investments fall under two of the following categories:

Retirement accounts include IRAs and 401(k)s and have tax advantage for your contributions. But there are limits to contribution and stiff distribution rules.
Nonretirement accounts also known as taxable accounts have no contribution limits or distributions rules.

Tax-loss harvesting: Using this strategy, will help sell investment assets at a loss in order to reduce your tax liability at the end of the year.
Rebalancing: You can get your portfolio in periodical order. Failing to do so, you're taking on added risks as your portfolio becomes heavily weighted by one or several types of investments. But many robo-advisors check for opportunities to rebalance on a daily basis and adjust your portfolio when an allocation varies by a set amount.
Access to human advisors: The level of access can vary from personal advisors for each individual client to a team of professionals readily available via email or online chat.
Assets under management (AUM): The more AUM, the more stable the company is! So you can trust it more!
Socially responsible investing (SRI): Also known as impact investing or values-based investing! It's a way for y ou to align you investment with your values. Companies that don't promot social good are excluded from the SRI funds and portfolios.
Best Robo-Advisors List
Betterment: The Best For Taxable Accounts

Management Fees 0.25% for Digital Plan
Minimum Investment: $0
Betterment is the largest independent robo-advisor, they manage $13.5 billion in assets, while offering a powerful belnd of goal based tools, affordable management fees and no minimum account requirement. If you need assistance from a human advisor then you have a choice to do so, but that ill cost you higher in management fees.
PROS
No account minimum
Fractional shares limit un-invested cash
Robust goal-based tools.
---
ALLY INVEST: BEST FOR SMALL BALANCES

Ally Cash-Enhanced Managed Portfolio
Minimum Deposit: $100
Annual Fee: 0% advisory fee for Cash-Enhanced Managed Portfolio
Pros: No advisory fees for Cash-Enhanced Managed Portfolio
Why we like Ally Cash-Enhanced Managed Portfolio for small balances:
No advisory fees no matter your account size. Small balances won't lose any money to fees.
Only $100 minimum to get started.
Choose from 4 different portfolios: core, income, tax-optimized, and socially responsible.
Automatic account rebalancing.
24/7 customer service by phone and online chat.
---
Wealthfont: Best for New Robo-Investors
Management fees: 0.25%
Minimum investment: $500
Wealthfront relies on its Modern Portfolio Theory to build portfolios from low-cost ETFs. It offers direct indexing for account over $100,000 which mimics ETFs with direct investments to stocks in order to achieve the most tax-loss harvesting benefits.
PROS
Great for beginners
Lower fees
Easy learning curve
Daily tax-loss harvesting
Automatic rebalancing
Direct indexing on accounts over $100,000
CONS
No fractional shares
No large-balance discounts
---
Personal Capital: Best for High Ballers

Management Fees: 0.89%
Minimum investment: $100,000
Personal Capital utilizes hybrid robo-advisor experience with free access to a powerful personal finance management platform! Because of the human advising feature, pricing for this management service is a bit more expensive than most other robo-advisors on the market.
PROS
Smart indexing
Dedicated financial advisors
Great investment tools.
CONS
High management fee
High account minimum.
---
Fundrise: Best for Real Estate Investment

Management Fees: 0.85%
Minimum Investment: $500
Fundrise is an online real estate company that lets average investors buy into private commercial and residential properties by pooling assets via their investment platform. With Fundrise, you can gain access to real estate deals without having to pay the entire bill. But know that these distributions are taxed as ordinary income so make sure you take that into account.
PROS
Low minimum investment
90-day money-back guarantee
Diversified portfolio
A user-friendly platform
CONS
Fees are not transparent
Investment commitment
Tax consequences
---
Wealthsimple: Best For Socially Responsible Investment

Management Fees: 0.50%
Minimum investment: $0
Wealthsimple is a good option for beginners who are taking their first steps in investment. There's a large variety of SRI portfolio to choose from if you're big on value-based investing. And a final thing, if you're going to be working with taxable accounts, Wealthsimple provides free tax-loss harvesting.
PROS
Free access to human advisors
Free portfolio analysis
Free tax-loss harvesting
SRI options
No account minimum.
CONS
Higher account management fees
Limited personal finance tools
---
WiseBanyan: Best Newbie on the Scene

Management Fees: 0% for basic plan
Minimum investment: $0
WiseBanyan is a robot advisor tool service with no hidden charges! The basic service includes automatic portfolio re-balancing and low minimum deposit! But if you want to open an IRA, you must pay for a premium.
PROS
Offers free services
No minimum balance
Great technology
CONS
Limited account selection
Paid tax-loss harvesting
---
Motif: Best for Mix Portfolios

Management Fees: $4.95 per Month
Minimum investment: $0
Motif is a theme based and cost efficient option for a diverse portfolio. You can invest from 20 to 30 stocks or ETFs that share similar characteristics called motifs. It is also possible to filter motifs by looking at daily charge, one year return, and even popularity
PROS
Pre-built portfolios
Customizable motifs
SRI options
CONS
Other fees like $4.95 per share and $9.95 per motif
No dividend reinvestment and minimal trading tools.
---
Schwab Intelligent Portfolio: Best from A Major Brokerage Firm
Management Fees: 0%
Minimum Investment: $5,000
Schwab Intelligent Portfolio is a fee-free robo-investing service from Charles Schwab. With th ecompany's array of financial services, you can choose from potions like tax-loss harvesting, automatic rebalancing and otehr tools through Intelligent Porfolios, and you can also take advantage of all the other benefits they have to offer.
PROS
Low cost
Diversified portfolios
Access to financial advisors
Automatic rebalancing
Tax efficient.
CONS
High minimum investment
High cash allocation and tax-loss harvesting not available for investments lower than $50,000
---
Vanguard Personal Advisor Services: Best with A Human Touch

Management fees: 0.30%
Minimum Investment: $50,000
Vanguard Personal Advisor Services is backed by Vanguard brand! You can access human financial advisors via phone. But the minimum investment is $50,000, which usually does not apply to beginner.
PROS
Great for advanced users
Personal advice
Complex financial planning
Access to Vanguard Funds
Savings on taxes
CONS
High account minimum
No tax-loss harvesting
Possible transaction fees.
---
Blooom: Best for 401(k) Management

Management fees: $10 per Month
Minimum Investment: $0
Blooom makes the complicated task of picking the right mutual funds for your 401(k) easy with online access. But there's a catch, this robo-advisor service only works with 401(k) and 403(b) plans.
PROS
No account minimum
Free analysis
Investment expense audit
Financial advisors
Low cost
CONS
Limited investor assessment
Agressive allocations
---
FutureAdvisor: Best to Manage Your 529

Management fees: 0.50%
Minimum investment: $10,000
If you're not sure if robo-advising is for you, FutureAdvisor lets you use test their service for free! It's also one of the few that can manage your 529 college savings plan.
PROS
Free tools
Advice and financial advisor support
CONS
High account minimum
High management fee
Maximum age restriction.
---
Fidelity Go: Best for Fidelity Clients

Management fees: 0.35% for retirement accounts

Up to 0.40% for taxable accounts

Minimum investment: $10,000
Fidelity is another investment powerhouse entering the robo-advisor market! The pricing is transparent and if you have an existing account with Fidelity, it could turn into a one-stop investment shop. But Fidelity Go lacks some of the features that other robo-advisors have to offer.
PROS
 Seamless multi-account viewing
Investment research (for Fidelity customers),
Low "all-in" annual costs for retirement accounts and taxable accounts
CONS
No tax-loss harvesting
Only basic goal tracking offered
---
SifFig: 1st $10K Managed Free

Management Fees: 0.25% above $10K

Diversified income portfolio fee: 0.50%

Minimum investment: $2,000
SigFig fits the needs of investors that are looking to dab into automated investing with their minimum investment of $2,000 and no management fees up to a $10,000 investment.
PROS
They have a portfolio tracking feature that is free to use
SigFig's financial advisors will also provide complimentary portfolio reviews
No management fee under $10,000.
CONS
Diversified Income Portfolio fee is high at 0.50%
Limited investment platform options – you must use Fidelity, Charles Schwab or TD Ameritrade
---
Bottom Line
Now you've learn Robo-Advisors are and what there functions are! Let your money go to work with minimal thought and effort! This tool can help you find a middle ground from doing it to yourself and to hiring a human financial advisor!
So if you're interested, you should check out the link we provided above and sign up for your first robo advisor! While you're here on HMB, you should check out other brokerage offers, see our complete list of  Brokerage Account Promotions!