Those that know me, I'm a Starbucks addict and proud of it! Can't beat Free WiFi with comfy seats, cool AC, and nice working atmosphere. Heck, I would buy a Starbucks franchise if they would allow it. I would go to Starbucks on an average of 5x a week and order drinks & snacks every time. Being an online Hu$tler for the past 7 years, you know I don't pay full price. Today, I will show you all the steps on How to save money in Starbucks! You'll find all my methods on getting free drinks, getting huge discounts, getting coupons and gift certificates for cheap. You'll cut your Starbucks spending money in half and feel no guilt for stopping at Starbucks ever again!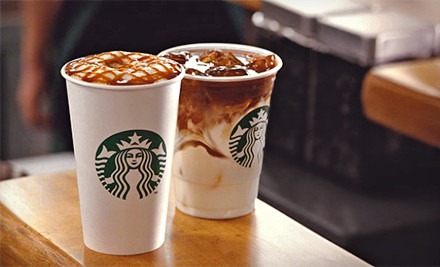 Save Money at Starbucks: Free Drinks, Discounts, & Coupons
#1 Get a Starbucks Gold Card: Go buy a gift card and load money to attain Gold Card Status. To reach Gold status, you must collect 30 Stars every 12 month period via buying a drink or a snack. *5 Stars to get Green Level Status* I would ring each item separately in order to get more stars. You'll get a free drink or food item after every 12 Stars you earn along with special emailed offers. Once you get the 12th star for your freebie, go for something expensive like a Venti Iced Caramel Macchiato with double shot, soy milk, etc. Here are more benefits of Gold Status:
Free Drink for every 12 Stars
Free Drink every birthday
Free Refills on iced tea and coffee
#2 Buy Starbucks Gift Card/Gift Certificate on eBay: Search "Starbucks gift cards" on eBay and you will find a discount of 20% off easily. Make sure to buy from sellers with good feedback. I normally use the "Buy It Now" function with at least 20% discount. You can transfer the gift card amount to your current card or register online to start reaching your Gold Status. If you don't want the actual physical gift card, then search for "Starbucks Gift Certificates" which is the same cash value but cheaper to buy online.
#3 Buy Starbucks Free Drink Coupons on eBay:  For those that buy Venti Frappuccino or Expresso size drinks, then you want to purchase Starbucks free drink coupons on eBay. These "Starbucks Coupons" are given to customers for complaints, wrong orders, etc for any kind and size with no expiration date. You can buy on eBay usually for $5 with free shipping for two coupons which is like getting 50% off when buying Venti drinks.
#4 Bring Your Own Cup: Starbucks will knock off ten cents of your total price if you bring your own cup in recognition of your eco-consciousness. If you order a tall drink and bring a very big reusable cup, you get some extra beverage for free. You could also buy the Starbucks mugs they sell that are dishwasher safe, plus insulated to keep warm drinks warm and cold drinks cold.
#5 Poor Man's Extreme Methods: Enjoy your Starbucks too much but with little money? 1) Order a Venti and ask for an extra cup and split the Venti with your friend! You are getting two grande sized beverages. 2) You can order the espresso over ice in a big cup, then you can walk right over to the condiment bar and use the carafes of whole milk, half and half, and nonfat. 3) Tell the barista to go easy on the ice, please. Starbucks usually overload your drink with Ice, so a "light ice" medium size beverage is almost equal to a large iced drink.
Full Benefits of a Registered Starbucks Card:
Register any Starbucks Card, including a Teavana Card.
Enjoy a free drink on your birthday
Protect your balance if your Starbucks Card is missing or stolen.
Transfer money between cards.
Track your earnings in My Starbucks Rewards
Reload your Card balance automatically
Enter Star codes and start earning your way to great rewards.
Do yourself a favor and get a Starbucks card! Starbucks Cards are free and take 10 seconds to register one online. A registered Starbucks card can save you up to $1.20 on a drink by giving you free flavor shots, like vanilla or hazelnut, and several other to-good-to-pass-up offers. In addition, the Starbucks card gets you every 12th drink for free. For Card holders that participate in the My Starbucks Rewards program, they can earn more freebies with "Stars" via using your Starbucks card or Starbucks app, or by entering "Star codes" on some marked ground coffee products. Don't forget to check out more methods to Save Money Online!

Hot Deal of the Day: Capital One 360 Checking Account offers $50 bonus promotion with no minimum or monthly fees and free Online Bill Pay.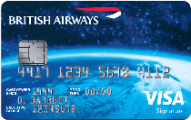 British Airways Visa Signature® Card offers 50,000 BONUS AVIOS after you make $2,000 in purchases in the first 3 months of account opening! Earn Avios with every purchase then use your bonus Avios towards rewards flights. No foreign transaction fee when you make purchases abroad. You will also get 2.5 Avios for every $1 spent on British Airways purchases and 1.25 Avios for every $1 spent on all other purchases. Every calendar year you make $30,000 in purchases on your British Airways Visa card, you'll earn a Travel Together Ticket good for two years. Chip with Signature Technology allows you to use your card for chip based purchases in Europe & beyond, while still giving you the ability to use your card as you do today at home. There is no annual fee for the first year, then $95 afterwards. Apply Now---

Chase British Airways Review