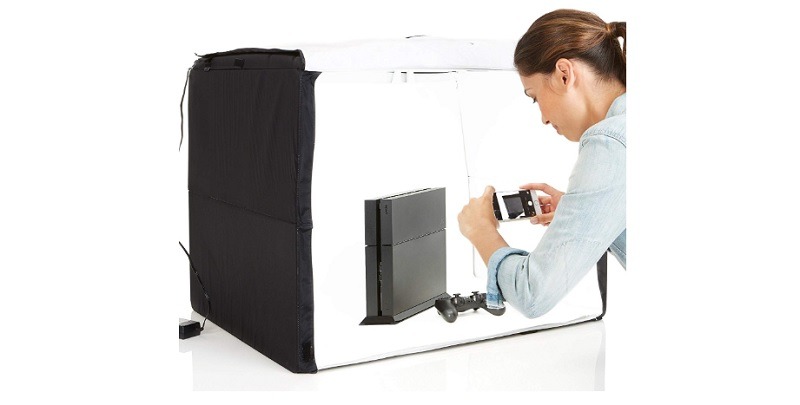 Are you tired of having to make a make-shift studio when you take pictures of your products? If so, be sure to check out this limited time hot deal! Right now, customers can get an AmazonBasics Portable Photo Studio from Amazon for only $95.29 + Free shipping! 
This foldable studio is extremely easy to fold and take with you anywhere! It also have built in high-power LED lights to illuminate any product you put in there. Be sure to take advantage of this hot deal before it expires or sells out!
AmazonBasics Portable Photo Studio
No assembly required with set-up in less than a minute; Collapses into a thin, portable, and durable portfolio case.

Measures 25" x 30" x 25" to fit a variety of product sizes; Includes power supply, user manual, and pre-installed removable bright-white backdrop.

High output built-in LED lights for handheld photography with a camera or smartphone. Lights are positioned for optimum contrast, and provide 5600k daylight balanced LEDs with high Color Rendering Index (CRI) for consistent color. An extra light provides directional light modelling like in a photo studio, giving better highlights, contrast, and shape to product images.

A front 3-door system maximizes image angles while reducing outside reflections, and a top hole enables imaging from above.

Compatible with Amazon Seller app; Shoot, edit, and directly upload catalog images to Amazon.

Backed by an AmazonBasics 1-year limited warranty.
Bottom Line
Don't miss out on this chance to score theAmazonBasics Portable Photo Studio from Amazon for only $95.29 + Free shipping! As said above, it's extremely portable and requires no assembly, so you should definitely get this product if you're tired of having to make your own tiny studios.
If you love finding hot deals like this, be sure to check out more on HMB! You can also find our compiled list of other ways to Save Money and other Hot Deals!