Traveling this holiday season? Lookout for this promotion for American Airlines where you can earn 120,000 bonus miles through January 3rd, 2017! This promotion is part of the extended Black Friday deal that American Airlines is offering where you can get a 20% bonus on top of the miles you purchase, where you can max out 120,000 bonus miles if you purchase 150,000 miles. Be sure to take advantage of this promotion and purchase your miles before 1/3/17 to get the most miles out of your purchase!
AAdvantage Miles and Bonus Miles:
Buy 10,000 to 24,000 AA miles – Get 3,000 bonus AA miles Miles
Buy 25,000 to 49,000 AA miles – Get 9,000 bonus AA miles Miles
Buy 50,000 to 74,000 AA miles – Get 27,000 bonus AA miles Miles
Buy 75,000 to 99,000 AA miles – Get 48,000 bonus AA miles Miles
Buy 100,000 to 149,000 AA miles – Get 72,000 bonus AA miles Miles
Buy 150,000 AA miles – Get 120,000 bonus AA Miles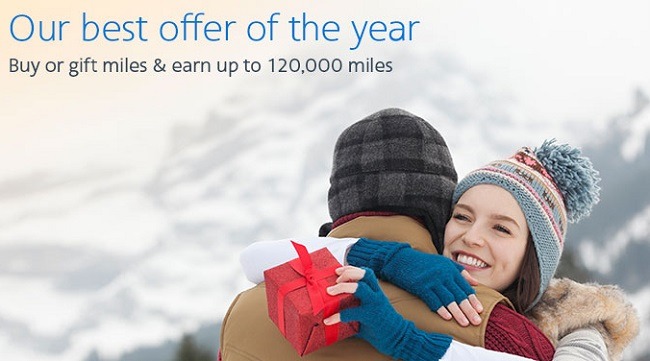 How to Earn AAdvantage Bonus Miles:
Visit American Airlines miles website.
Log in to your AAdvantage account.
Select the miles you would like to purchase
Check the box to agree to the Terms and Conditions and click Pay Now to finalize the purchase.
Your miles will "post to the designated account immediately."
Purchase by January 3rd, 2017
Remember that purchasing miles from AA is considered travel purchases therefore use your Chase Sapphire Preferred to get rewards with American Airline's offer and earn 2x points with Chase on the purchase.
Bottom Line:
American Airlines offers different miles bonuses at different times of the year and this one is definitely a great one to take advantage of if you're looking to fly somewhere over the holiday season! If you want to max out this offer you must purchase at least 150,000 miles in order to get the 120,000 miles. Having the extra 20% bonus makes this deal even sweeter and definitely worth looking at. Remember the purchase of miles is considered an airfare purchase when purchased through American Airline, so use credits cards such as the Chase Sapphire Preferred, Citi Prestige, or Premier Rewards Gold from American Express, to earn 2x or 3x the points on airline purchases. If you're looking for some more points and miles deals, check out our full list of points and miles!