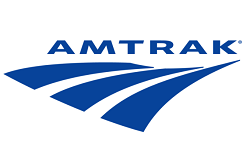 Trains are an excellent mode of transportation that will get you from point A to point B in not time flat. On top of lower fare rates compared to flights, trains can also offer a scenic route for your viewing pleasure.
Amtrak is one of the best train transportation services out on the market right now and offers 10% discount to active duty US Armed Forces, active duty US military personnel, their spouses, and their dependents.
In addition to great rates, uniformed military personnel are also welcome to the head of the ticket line. If you want to travel in comfort while saving money then book with Amtrak!
Amtrak Military Discount Promotion
Promotion: 10% off discount
Availability: Active duty military personnel, their spouses, and their dependents
Eligibility: Nationwide
What to Do: Present valid military ID

Bottom Line
Amtrak is a fast & efficient way to get around the country. You can travel in comfort as you gaze out the window at memorizing sights during your travels. Active duty military personnel, their spouse, and their dependent can save 10% on Amtrak fares with a valid ID.
Be sure to check out other ways to get Military Discounts during Veterans Day and Memorial Day. Also find more ways to Save Money throughout the year, and keep track of our extensive list of Best Military Discounts, all here for you on HMB!