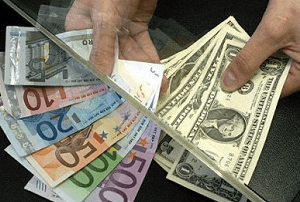 Having to worry about fees is the last thing that you want to be thinking about when you are traveling abroad. Whether you are withdrawing money from ATMs or simply making purchases, foreign fees are inconvenient and can easily add up.
A foreign transaction fee can often range anywhere from 1% to 3% of the amount of a purchase made outside of the United Sates. This can happen whether you are using your debit card at a retailer or eating out at a restaurant.
There may also be additional fees charged by the bank, and the ATM owner may even add on a few euros or yen as well. However, some banks are more travel friendly such as the ones mentioned below. These do not charge any fees which will make your experience overseas much more pleasant.
We composed our first list based on whether the banks have a 0% Foreign Transaction Rate, a $0 International ATM Withdrawal Fee, or if the fees are able to be waived. The second list is based on whether the banks have a low Foreign Transaction Rate, a low International ATM Withdrawal Fee, or if the fees are able to be waived.
Best Foreign Transaction Fee Debit Cards
---
Best Banks with No Fees For International ATMS
---
Discover Bank doesn't charge a transaction fee or any ATM fees in specific countries, so you can use the ATMs without having to worry about any pending foreign transaction fees or hidden fees of any kind. Not only that, if you are currently looking for a savings account, make sure to read our Discover Online Savings Promotion Review for your chance to earn extra bonus!
Capital One 360 is unique from other banks because it does not charge a currency conversion fee or a fee for using a foreign ATM. If you are charged a fee then you will be reimbursed by Capital One 360. Once you have your account open and active, you can send 50 referrals to your friends and family members to earn up to $1000 in referral bonuses.
Charles Schwab Bank does not charge a fee when you use your debit card at a foreign ATM. In addition, this bank will provide you with unlimited reimbursements for ATM fees from cash withdrawals worldwide, regardless of the network used. Plus they don't charge a currency conversion fees for debit card transactions.
Citibank's Plus Everyday Account does not charge a fee when you use foreign ATMs as well as a zero dollar fee for foreign transactions. Plus there are no monthly fees associated with this account. Customers of CitiBank will have to pay a $2 foreign transaction fee plus a 3% conversion charge for any out-of-network ATM transaction, however because CitiBank has such a large international presence that there are a wide variety of in-network banks available.
---
Notable Banks With Low Fees/Waivable Fees
---
Chase charges a $5 fee plus 3% of the foreign ATM withdrawal amount. However, if you are a Premier Platinum Checking account holder, the flat $5 fee will be waived. For foreign transactions, there is a 3% fee. If you would like to see all the latest offers from this bank, make sure to check out our master list of Chase Bank Promotions with bank bonuses ranging from $150-$500!
TD Bank charges a flat $3.00 fee for ATM withdrawals with no foreign transaction fees. However the fee can be waived for TD Premier and TD Relationship account holders with a daily minimum balance of $2,500 in their account. Currently TD Bank is offering a $300 bonus when you open a TD Premier account. Make sure to read our TD Bank review to find out more about this interest checking account.
Fidelity waives all ATM fees if you have a Cash Management Account. You can also use the Fidelity Visa Gold Check Card at ATMs displaying Visa, Plus, or Star logos to have your ATM fees charged by other institutions reimbursed. However note that there is a foreign transaction fee of 1% that is not waived, which will be included in the amount charged to your account.
PNC Bank doesn't have partners overseas therefore you'll get charged a $5 fee per transaction plus a 3% of the transaction amount. However, if you are a Performance or Performance Select customer, the fees will be waived. If you have a Spend, Reserve, or Growth account, the fees for the first 2 domestic or international non-PNC Bank ATM transactions during a statement period will be reimbursed.

USAA does not charge a fee for the first 10 ATM withdrawals and will refund you up to $15 in other banks' ATM usage fees each month. However subsequent transactions will be charged a fee of $2.00 each. Also a 1% foreign transaction fee applies to withdrawals outside the United States.
Citizens Bank has a flat fee of $3 plus up to 1.8% of the foreign ATM withdrawal amount. If you have a Value Checking, there will be no ATM fee for the first relevant transaction. Also, if you are a Circle Gold Checking with Interest account holder, there is no ATM fee for the first four relevant transactions.
---
Bottom Line
These are just a few banks that we have highlighted of the Best Foreign Transaction Fee Debit Cards for you to check out! However, we recommend that you contact the bank yourself in order to ensure that there are no ATM or transaction fees in the country that you are traveling to! Also make sure that your bank and other financial institutions know that you will be traveling overseas because even the slightest change in your regular spending pattern may raise a red flag for fraud which may result in your account being frozen or your cards being declined.
Also, don't forget to check out our complete listing of Bank Promotions nationwide to find the right bank to meet your banking needs and score some extra cash in your pocket along the way!