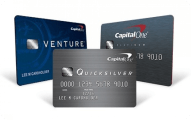 Capital One offers plenty of card options for an individual consumer to browse but to make it easier for consumers Capital One® Card Finder Tool is available to help you find card offers in less than 60 seconds! Since there are so many options available for consumers, it gets hectic and a tad bit stressful when it comes to finding the perfect card for you. In all honesty, it's daunting knowing that if you apply for the wrong card, you're stuck since it affects your credit score but here comes the gleaming hero – Capital One – to save you. The Card Finder Tool has made it drastically simple for consumers to browse and see what card offers applies to them and what would benefit them without affecting their credit score! So don't hesitate, find the perfect card to put in your wallet today!
Editor's Note: Once you're done fiddling through the Capital One Card Finder Tool, head over to our full listing of the Best Capital One Credit Cards and apply for the card you are ready to have in your hands!

Capital One Card Finder Tool Features: 
Find card offers you may be eligible for without affecting your credit score
Get matched to features you want like low intro rates, cash back or miles, and more
See your card matches in less than 60 seconds
Find a card for where you are to help you prepare for what's ahead
All Capital One cards come with fraud coverage if your card is lost or stolen
24/7 account access; including mobile app for fast and easy account management – right from your smartphone
Pick the monthly payment due date that works best for you
Pay the way you want – by check, online, or at a local branch
How to Use Card Finder Tool: 
Visit the Capital One Card Finder Tool 
Simply fill out your information
Answer what kind of card benefits are most important to you
Answer How do you rate your credit level? required
Agree that you know that this is NOT a credit card application
Proceed and you'll see a listing of pre-qualified Capital One credit cards populate right in front of you
Then head over to our Best Capital One Credit Card listing and apply for the best Capital One for you today!
Bottom Line:

 
This is one of the most ingenious and time saving tool that a consumer would be lucky to use! Capital One Card Finder Tool keeps things simple and easy for you and all you have to do is make sure to fill out the questions to generate pre-qualified Capital One card listings that will benefit you. How much easier can it get? Well we're going to help you out and give you a full listing of the Best Capital One Credit Cards and all you need to do is complete the Card Finder Tool and then head to our list to apply there. We're here to help you keep your precious time to do other important things. If you're interested in viewing a list of credit card bonuses you can find additional credit cards for all your needs!