Feel confident in a subject to the point where you could teach it and make around $20/hr? If so consider becoming a Chegg Tutor! There are great benefits to becoming an Online Chegg Tutor. You'll get to set your own schedule and log in whenever is most convenient for you. You'll also get to tutor from anywhere. You can be at your dorm, house, apartment, a coffee shop, anywhere so long as you have a stable internet connection. You also won't have to worry about finding students, because Chegg will send the students to you. Build a solid reputation and find more opportunities to tutor and earn even more money! If you're interested in becoming an Online Chegg Tutor, its a super simple process. All you have to do it create an Online Chegg Tutoring account using your email and password. If you're confident in a subject, mind as well make money off of it. Don't miss out on this chance to get a solid source of income just from working at home or wherever is most convenient for you.
Chegg Tutors Promotion:
Promotion: Become an online tutor
Availability: Anywhere with stable internet connection
Terms & Conditions: As a Tutor, your use of the Services is governed by the policies, terms and conditions herein. THE SITE AND SERVICES COMPRISE AN ONLINE PLATFORM WHICH FACILITATES THE CONNECTION BETWEEN USERS AND TUTORS FEATURED ON THE SITE AND VIA THE SERVICES. YOU UNDERSTAND AND AGREE THAT CHEGG IS NOT A PARTY TO ANY AGREEMENTS ENTERED INTO BETWEEN USERS AND TUTORS. AS MORE FULLY DETAILED BELOW AND TO THE FULLEST PERMITTED BY APPLICABE LAW, CHEGG DISCLAIMS ALL LIABILITY RELATED TO THE LESSON SERVICES OR THE CONDUCT OF USERS, TUTORS OR OTHER USERS OF THE SITE OR SERVICES. ACCORDINGLY, ANY MEETINGS (VIRTUAL OR OTHERWISE) BETWEEN USERS, TUTORS OR ANY OTHER THIRD PARTIES AND ANY PURCHASES OF LESSON SERVICES PROVIDED BY TUTORS ARE DONE AT THE PARTIES' SOLE RISK.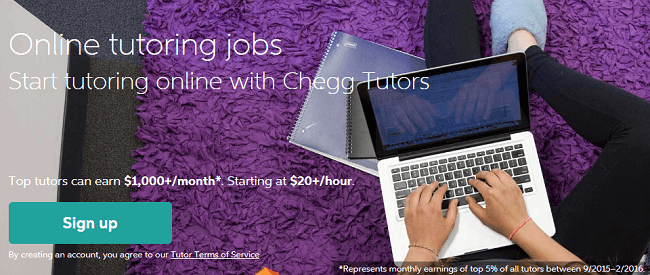 How to Earn Cash for Tutoring:
Create an account on Chegg Tutoring
Establish your subjects
Teach students and earn money from your home!
Bottom Line 
Don't miss out on this chance to find a solid income for online tutoring. Becoming a Chegg Tutor is super simple and can earn you on average around $20/hr! You make your own schedule, you set your own location, it all revolves around you making it the most convenient online tutoring website. Sign up today to earn money from your own home! For more ways on how to save money, check out more on HMB!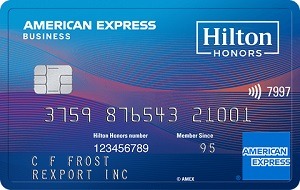 The Hilton Honors American Express Business Card has a welcome offer of 130,000 Hilton Honors Bonus Points after you spend $3,000 in eligible purchases on the Card in the first 3 months of Card Membership.

You'll earn 12X at hotels and resorts in the Hilton portfolio, 6X on Select Business & Travel Purchases, 3X on all other eligible purchases. Terms & Limitations Apply.

In addition, you can enjoy complimentary Gold Status with your Hilton Honors Business Card & earn a Weekend Night Reward from Hilton Honors after you spend $15,000 in purchases on your Card in a calendar year.

This card has a $95 annual fee. (See Rates & Fees)