One of my favorite credit cards is the Citi mtvU Student Visa Card. You get 5 Thank You points when you spend every dollar at restaurants, bookstores, movie theaters, video rental stores, and 1 Thank you point everywhere else. This make this card to be 5% cash back on those categories. You can also get 5% back on certain items on Amazon and Itunes. Here are some more features:
No annual fee
6 months 0% APR
Redeem points for airline tickets, gift cards, and MTV events.
No minimum income or cosigner needed.
Another bonus is that if you submit grades in each semester, you can can get up to 2000 Thank you points. Even though I'm not a student, you can still apply for it. uhhh…a continuing grad student?? yup. Just send your old grades in to get the free points.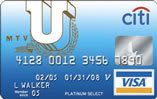 Earn up to 2,000 ThankYou Points® twice a year for having a good GPA*
GPA ThankYou Points
2.50 – 2.99 250
3.00 – 3.49 500
3.50 – 3.99 750
4.0 2,000