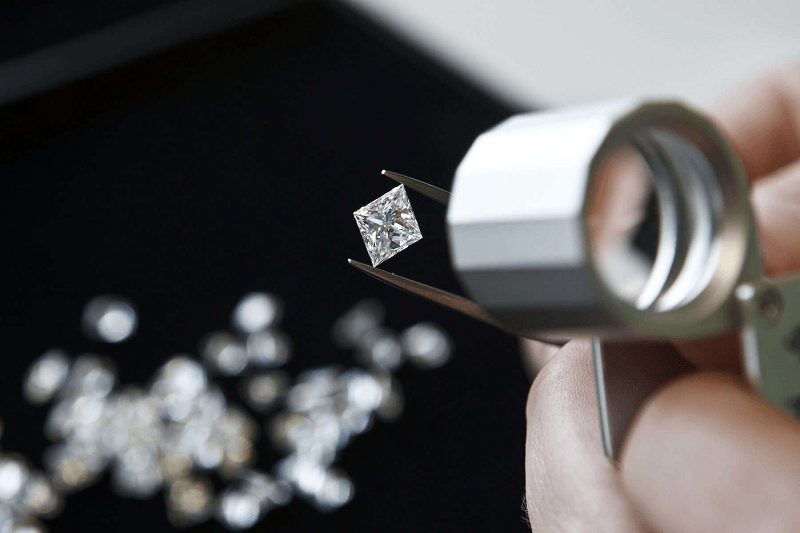 If you're looking into buying diamonds for a special event, you may have some worries about this expensive purchase. Your worries could be about if the company you're buying from is pricing it fairly or even possibly the chance of the diamond being unauthentic! There are many businesses that sell unauthentic diamonds because of the amount of profits that they will be able to make. It is our job to educate ourselves and find true and authentic diamonds. Telling the difference between an authentic and counterfeit diamond may be difficult, but by informing ourselves on the characteristics of authentic diamonds, we can find the perfect diamond that you have been wanting. In this article, you will learn how to tell whether the diamonds you might purchase are real or not.
Editor's Note: If you're interested in buying a diamond online, be sure to check out How to Buy a Diamond Online. Also check out our post about  The Four C's of Diamonds: Cut, Clarity, Color & Carat to find out the diamond standards!


At Blue Nile, their jewelry is designed and crafted with high-caliber, quality materials and inspected with exceptionally high standard.
• Highest Diamond Quality Standard & Authenticity Certified
• Get More For Less & Always Have The Best
• Best Price: Find a comparable GIA graded diamond for less and they'll match the price. Pay 20% up to 40% less than traditional jewelers


What Makes A Diamond Not Authentic Diamonds
Unauthentic Diamonds can be either man-made or from other naturally occurring gemstones.
Cubic Zirconia: Cubic Zirconia are the most common unauthentic diamond.
Most of the time it is very difficult to tell the difference, but a cubic zirconia stone is hard, but it's still not as hard as a diamond. Cubic Zirconia can be scratched easier than an authentic diamond.
Glass: To most people, glass diamonds are hard to tell because of its shimmer and clearness. With closer inspection, glass does not have the same brilliance and toughness as an authentic diamond.
Moissanite: This naturally occurring gemstone is rare, but still can be produced in a lab. Moissanite is very similar to a diamond in brilliance and toughness.
A moissanite gemstone almost sparkles more than a diamond. However, Moissanite is not often used to counterfeit diamonds because of its expense.
White Sapphire: White Sapphires are not as hard as diamonds and are slightly foggy, but still a very precious gemstone. Since it is so rare, it is very unlikely to see White Sapphires acting as a Diamond.
White Topaz: White Topaz looks very much like a Diamond, but is not tough and easy to scratch. It is however very cheap and can be used as a poser diamond.
Zircon: Zircon is a naturally occurring stone. This stone has a wide range of different colors. Zircon is not hard or tough as Cubic Zirconia or a Diamond. It is often used as a cheaper alternative to a diamond that can add color to your ring.
If you don't really want to spend too much on the diamond, it's okay to get another piece of jewelry. It just depends on what you are looking for. People with tight budgets can buy a Cubic Zirconia, a cheaper diamond substitute, and just replace the gemstone later with a real diamond. Before you purchase your jewelry, be sure to know what you want, can afford, and whether its okay to go for a substitute gemstone.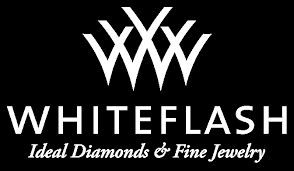 At Whiteflash, they're all about the Ideal Cut Diamond carrying the largest inventory & best selection of AGS certified ideal diamonds in the world!
• Exclusive provider of their own A CUT ABOVE® Super Ideal Diamonds
• Finest designer brands such as Tacori, Verragio, Simon G, Ritani, Danhov, Vatche, and Benchmark
• Entire staff GIA trained including several Graduate Gemologists & Diamond Graduates
• Complete Satisfaction Money Back Guarantee


How To Test a Diamond When Attached to a Ring
Here are some simple tests you can do to find the authenticity of the diamond.
Fog It Up: Breathe onto the diamond and the moisture from your breath should form a slight film.
The fog on a real diamond will disappear right away. Authentic diamond's fog will always stay clear, while a unauthentic diamond will remain foggy.
Ring: If the ring appears to be a poor quality metal or if it doesn't consist of a common metal used in engagement ring like platinum, white gold, or yellow gold, it could be unauthentic.
Stamps: Look on the inside of the rings and find stamps. A "925" Stamp is a Sterling Silver Ring and is not commonly used because of its softness. A "CZ" stamp means that the stone is Cubic Zirconia.
A 10k, 14k, or 18k stamp means that is made of gold. A "Plat" or "Pt" stamp means that the ring is made of platinum. If the stone is either in gold or platinum, the stone is most likely a precious diamond!
Setting and Mount: Look at the area where the diamond is set. The prongs should be tightly connected and wrap around the diamond. A genuine dealer would make sure that the jewel would not pop out. If it is a fake, they won't take much care of losing the jewel.
Where Is The Best Place To Buy An Engagement Ring?
For
Diamond Retailer
Best Place To Buy Online
James Allen
Biggest Selection
Blue Nile
Best Diamond Cuts
Whiteflash
How To Test a Diamond By Itself
These tests are how you can see if a stand alone diamond is authentic or not.
Heat test: Hold a lighter to the stone for 30-60 seconds and immediately drop the stone into a glass of water. Authentic diamonds would would not react to the temperature changes. If it isn't, a glass or Cubic Zirconia diamond would immeddiately shatter from the change of temperature. If it is a real diamond, no damage would occur. Only do this test if you don't care for an unauthentic diamond.
The read-through test: Diamonds have high levels of refractivity meaning that it can bend and scatter light easily. First, place your diamond on a book, newspaper, or magazine and try reading through it. If it is hard to read the text through the diamond, the jewel you have is most likely an authentic diamond! It is hard to read through an authentic diamond because the light would bend and refract not allowing you to see the words correctly.
Water test: This test checks the diamond's density. Get a glass of water and place the jewel into the water. If it floats on the top, it is not a real diamond. If it sinks to bottom of the glass, then it is real because authentic diamonds are higher in density making it sink further down.
REMEMBER: Conducting only one of these tests is not always sufficient in telling whether the diamond is authentic. It is always best to take your diamond to a trusted jeweler to conduct more tests with special equipment.


At James Allen, their diamond and gemstone fine jewelry collection offers hand-crafted pieces of unforgettable luxury that are perfect for any occasion.
• Their mission is to offer consumers online the highest quality diamonds & largest selection at the best price.
• 150,000+ certified conflict-free diamonds, all photographed in 360° HD
• 24/7 Diamond Experts, with option for Real-Time Diamond Inspections
• Lifetime Warranty, Free Shipping Worldwide
• Hassle-Free Returns with 100% Money Back Guarantee


Bottom Line:
If you want to purchase a diamond, be sure to check the authenticity of it. Some jewelry businesses sell counterfeit diamonds and it's our job to protect ourselves. You can try the tests listed above to determine the authenticity, but the best way to find out is to have it tested and inspected by a trusted and reputable jeweler. A trusted diamond company of ours is Blue Nile Diamonds and James Allen, they offer some of the best quality products and service on the market, so be sure to check them out!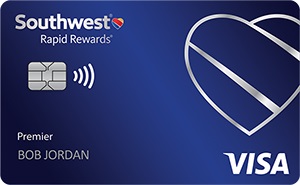 The Southwest Rapid Rewards® Premier Credit Card offers 60,000 bonus points plus a 30% off promo code after spending $3,000 on purchases in the first 3 months from account opening.

In addition, you'll earn 6,000 bonus points after your Cardmember anniversary each year.

You'll earn:
• Earn 3X points on Southwest purchases.
• Earn 2X points on local transit and commuting, including rideshare.
• Earn 2X points on internet, cable, phone services, and select streaming.

You're able to redeem your points for flights, hotel stays, gift cards, access to events and more.

This card does carry a $99 annual fee, but there are no foreign transaction fee.



Learn More About This Card Here