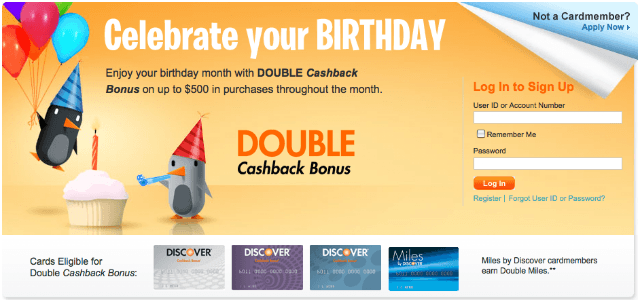 For cardholders of Discover More,  Motiva, Open Road, or Miles, Discover is celebrating your birthday by giving you 2% cashback(or double miles). The birthday month double cashback bonus program starts on the first day of your birthday month(or the date you sign up). The 2% cashback bonus applies to up to $500 in purchases made during your birthday month with a maximum cashback of $10. The 2% cashback is in addition to the 5% cashback rotational categories plus ShopDiscover portal on up to 20% cashback.
Terms and Conditions:
Sign up to earn 2% Cashback Bonus on up to $500 in purchases from the first day of the birthday promotion month for which you enroll (or the date on which you sign up, whichever is later) through the last day of that month. Purchases earning 2% Cashback Bonus will not count toward your total annual purchases to determine your tier level. These purchases must post to your account by the last day of the month. Allow up to 5 weeks for this reward to be added to your Cashback Bonus account. See Cashback Bonus Program Terms and Conditions for further details about your reward program.
Whether your birthday is this month or not, simply sign up today for double cashback on your birthday month.