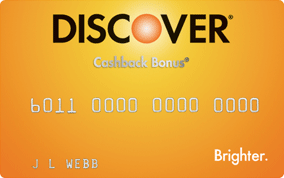 Starting 2012 with a bang! The Discover® More Card is now offering $0 Balance Transfer for 12 months 0% APR. This cashback bonus credit card is ideally for someone seeking to transfer a balance from an existing credit card.  It's the same as getting a free loan for 12 months at absolutely no cost!  Plus, there is no annual fee, no rewards redemption fee, no additional card fee. You will need to make the minimum payment each month that goes toward your total balance.
The Discover More is a cash back reward card for purchases you make in bonus categories and popular online retailers. From January 1st to March 31st, 2012, cardholders get 5% cash back on gas stations, museums, and movies on up to $1,500 in purchases for the bonus categories.
Under important information, you could verify the 12 months 0% APR with no balance transfer fee:
APR for Balance Transfers: 0% intro APR for 12 months from date of first transfer, for transfers under this offer that post to your account by July 10, 2012.

Transaction Fees * Balance Transfer – Intro fee of $0 for transfers that post to your account by 7/10/2012 with the 0% intro APR balance transfer offer described above. After that, 3% of the amount of each transfer, whichever is greater.
Few Discover More Tips:
Maximize your reported income in order to get the highest credit limit possible.
Don't do the balance transfer right away. Wait til you see your credit limit to ask for a credit limit increase over the phone.
Get cash directly from your balance transfer by requesting money to be transferred to a Citibank or AmEx card. Once you have a negative balance on your other card, you can request the other issuer via online to send you a check directly to your address.
If you already has a Discover More card, cancel the current one in order to apply for this No Balance Transfer offer.
Use this "free loan" to do arbitrage with a Rewards Checking Account with at least 3% return.
Card Features:
Limited Time Offer – $0 Balance Transfer Fee!*
0% intro APR on purchases and balance transfers for 12 months, then the variable standard purchase APR of 10.99% – 19.99%*
5% Cashback Bonus® in categories that change like gas, restaurants, department stores and more. Limitations apply*
Up to 20% Cashback Bonus at popular retailers when you shop online through Discover.com
Discover is ranked #1 in customer loyalty–15 years in a row! (2011 Brand Keys Customer Loyalty Engagement Index report)
24/7 access to a U.S.-based Account Manager within 60 seconds
Great rewards with no annual fee, no rewards redemption fee, and no additional card fee
*Click apply to view rates, fees, rewards, limitations and other important information
On a side note, the Slate Card from Chase is also offering a 0% APR for 12 months with no balance transfer fee.  Sign up for both cards to lower your monthly interest fees to 0% for 12 months. The saving could be in hundreds of dollars!