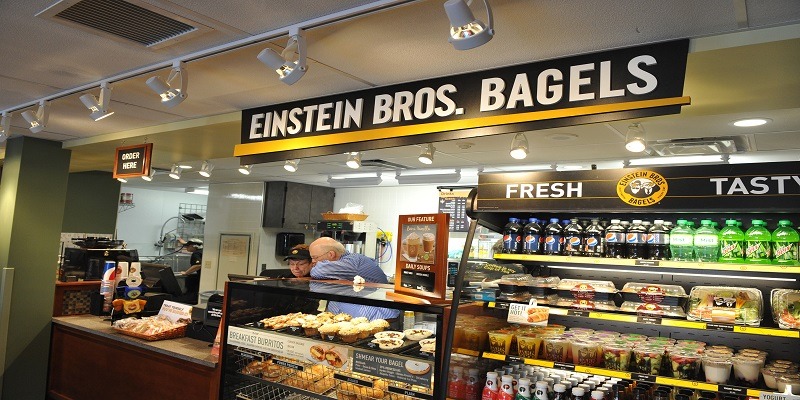 Here you'll find the latest discount codes, coupons, savings, & promotions from Einstein Bros. Bagels.
Need a boost in the morning? Then visit your local Einstein Bros Bagels for breakfast to get energy for the rest of the day!
Below we've listed some of the best and current promotions available right now to make it easier for you to save money. Make sure you constantly check up on this post to see if there are any new deals listed because Einstein Bros Bagels is always having some kind of promotion going on.
---
About Einstein Bros Bagels
At Einstein Bros. Bagels, they believe in the bagel. They believe it has the power to do amazing things—giving you a reason to look forward to morning office meetings or an afternoon escape or even the simple joy of a shmear mustache on your kid's face.
It's why they get to the store at 2am every day and bake fresh bagels every four hours, so the bagels are as fresh and delicious as possible. It's why they only use the finest ingredients to create the most inspiring flavors. It's why they do everything possible to make your day that much better.
To spread a little more joy and happiness in the world. To laugh, smile and enjoy each other's company that much more. There's no better way to do that than with the bagel.
---
Current Einstein Bros Bagels Promotions
---
*Get Free Coffee For 30 Days When You Join Rewards Program*
Do you eat at Einstein Bros Bagels often? Why not take advantage of their rewards programs, The Shmear Society? Not only can you earn a free bagel and shmear, but you will also earn plenty of other rewards. For example, you could earn free coffee for 30 days for simply signing up!
What you get: Free Coffee For 30 Days When You Join Rewards Program
Offer expiration: Limited time only
Where it's available: Einstein Bros Bagels
How to get it: Sign up for the Shmear Society rewards programs
Terms: Not valid at college campus locations.
(Visit Einstein Bros Bagels to learn more)
---
20% Off Gift Cards
Looking for some gift cards to give to someone? Here is your chance! Einstein Bros. Bagels are offering customers an opportunity to save 20% off Gift Cards. This offer is a great opportunity to gift a bagel lover this holiday season!
What's the offer: 20% Off Gift Cards
Where it's available: Einstein Bros. Bagels Online
When it expires: December 25, 2020, while supplies last.
Terms & Conditions: Terms and conditions apply. Exclusions apply. Valid for a limited time or while supplies last.
(Click on the link above to view the promotion)
---
Bottom Line
Bagels are a great way to start off your day! If you are a fan of Einstein's, then hold on to this post because we constantly update this post to make sure you get the best deals possible. If you're interested in posts like this, check out our list of Free Food Deals and Birthday Deals! , here on HMB!