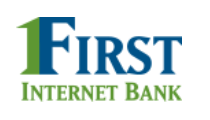 Although online internet banking may seem new, First Internet Bank has been available to customers since 1999. Even though it has seniority over other online banks, does it necessarily mean it's the best?
First Internet Bank of Indiana offers a whole suite of account options for consumers along with business accounts and lending services, giving you a variety of choices. You must handle all banking transactions with First IB online or with an ATM; they don't have any physical branches.
Checking Account Options
Each checking account at First IB includes a free debit card, free incoming wires, online and mobile bill pay, and free eStatements.
Free Checking
This account requires a $25 initial deposit and offers no monthly maintenance fee. However, there is no interest offered on this account. You'll receive your first box of checks free of charge and you'll receive a free debit card. You will be held accountable for all ATM surcharges.
Interest Checking
This account requires a $100 initial deposit in order to open. As the name states, you will earn interest on this account. There is a monthly maintenance fee, however it can be avoided with a minimum balance of $500. First Internet Bank will refund you up to $10 in ATM surcharges per month with this account. You can receive your first box of checks free of charge as well as a free debit card.
Savings Account Options
Each savings accounts will include an ATM card, free incoming wires, free eStatements, unlimited deposits, and unlimited online/mobile banking.
Free Savings
With just $25, you can open the Free Savings account. There is no monthly service fee and you'll earn interest on your deposits. You will be responsible for all third-party ATM charges. Up to six withdrawals can be made per monthly cycle before charges are applied.
Regular Savings
This account requires a $100 initial deposit. Interest rates will be increased with this account. Monthly Maintenance fees can be avoided with a minimum balance of $1000. You may be eligible to receive up to $10 in ATM surcharge reimbursements and you may only make six withdrawals per month without paying a fee.
Money Market Savings
This account required a $100 initial deposit. Interest rates are significantly higher on these accounts compared to other savings accounts. Tiered rates at balances below $250,000 and above $250,000. In order to avoid the monthly service fee, you'll need a minimum daily balance of $4,000. You are eligible for ATM surcharge reimbursements and you may only make six withdrawals per month before incurring a fee.
CD Account
This account requires an initial deposit of $1,000 to open. Terms range from 3 months to 60 months and offer a wide range of high interest rates. They don't charge any maintenance fees on their CDs and they will automatically roll your money over into another CD upon maturity.
IRAS
This account requires an initial deposit of $1,000 and offers terms ranging from 12 months to 60 months. They also offer a Money Market IRA with tiered interest rates for balances above and below $250,000.
Health Savings Account
No amount is required to open a Health Savings Account (HSA). You do need to have a high-deductible health insurance plan to qualify, though. There is no monthly maintenance fee and you don't have to meet minimum balance requirements.
Tomorrow's Tycoons 
This account requires a $100 initial deposit to open. Kids up to the age of 18 can have this account that earns interest and has no monthly maintenance fee.
Reasons to Bank With First Internet Bank
You're able to set up digital banking for a vast majority of First Internet Bank accounts. This allows you access to you accounts whether you're on your computer or on your mobile device with the option to check your balance(s), pay bills, setting up custom alerts, or transferring money.
The app comes with a variety of functions to help make your banking experience easier. Some of these include setting up Quick Glance to view your account balance(s) without having to log in, freezing your debit card (beneficial if you lose your card or if it was stolen), & depositing your checks remotely.
Setting up your debit card with Apple Pay. With this benefit, you will not have to carry around your physical card around and pay at stores that accept Apple Pay. This lowers the risk of you having your card lost/stolen and helps keep your card more secure.
Make manual payments or set up automatic payments on the mobile app/online. This makes it way easier to pay your bills every month.
The fee placed on your account for excessive withdrawals is considerably lower compared to other online banks.
If you lose your debit card for the first time, they'll replace it for free the first time! However, if you lose it a second time, you'll be subject to their replacement fee.
Easily set up overdraft transfer protection. Funds from a savings account can be transferred over automatically if an overdraft is ever made.
Set up text banking. Text keywords to act as functions for your bank account.
Electronic deposits will be available the next day.
First internet bank is FDIC insured. Up to $250,000 is insured.
Reasons Not To Bank With First Internet Bank
Minimum balances are high for savings accounts. At least $1,000 is required for Regular Savings and $4,000 is required for a Money Market Savings account.
You have to pay for paper statements. eStatements are free, but if you prefer a physical copy, you're required to pay for it.
You may pay a fee to cash out your CD upon maturity. Typically, you can withdraw your funds from a CD upon maturity or within 10 days.
First Internet Bank Routing Number
The main routing number is 074014187. To find find this routing number, you can simply check the bottom left corner of your checks – check to see if this number differs.
Contact Customer Service
Reach First IB Customer Service at 1-888-873-3424. Reps are available Monday – Friday from 7 AM – 9 PM and Saturday from 9 AM – 3 PM ET.
In addition, you're able to fill out an online Customer Service Request, but a response can to take between one and two business days.
How First Internet Bank Compares
Capital One 360: They offer similar accounts to First IB. Both have fee free online accounts, but Capital One 360 has the upper hand when it comes to ATMs. you can find Allpoint ATMs throughout the United States, making it easy to avoid ATM fees from Capital One and the third-party bank.
Marcus by Goldman Sachs: If you bank strictly for savings, Marcus by Goldman Sachs offers competitive rates on savings accounts and CDs. Additionally you don't need a minimum balance and they still offer competitive rates.
Bottom Line
Choosing a bank that best suits your needs is a crucial decision. You'll be investing time and money into these institutions and will need to make the right choice and be sure the bank/credit union will offer you what you need. It's very important to keep in mind the potential fees that may incur and how to avoid them if possible. If First Internet Bank has the variety and options you're looking for, apply today!
If you're interested in banking with First Internet Bank, see our list of the latest First Internet Bank CD Promotions! For more options from a variety of banks, see our list of the best bank promotions!
Chase Business Complete BankingSM: Earn $300 bonus when you open a new Chase Business Complete BankingSM account and deposit $2,000 or more in new money within 30 business days & maintain that balance for 60 days, and complete 5 qualifying transactions within 90 days. Chase offers financial products and services that let you bank when and how you want. Get Coupon---

Chase Business Checking Review

U.S. Bank Business Checking: Earn a $400 bonus when you open a new, eligible U.S. Bank business checking account online with promo code AF49ZCB and complete qualifying activities, subject to certain terms and limitations. Offer valid through February 22, 2023. Member FDIC.
Apply Now---

U.S. Bank Business Checking Review

Huntington Unlimited Plus Business Checking: Earn $1,000 bonus when you open a Huntington Unlimited Plus Business Checking account and make total deposits of at least $20,000 within 30 days of account opening. The $1,000 bonus will be deposited into your account after all requirements are met. This account is for larger businesses with high monthly transaction volume. Apply Now---

Huntington Unlimited Plus Business Checking Review

Huntington Unlimited Business Checking: Earn $400 bonus when you open a Huntington Unlimited Business Checking account and make total deposits of at least $5,000 within 60 days of account opening. The $400 bonus will be deposited into your account after all requirements are met. This account is for businesses with higher checking activity and greater cash flow needs. Apply Now---

Huntington Unlimited Business Checking Review

Huntington Business Checking 100: Earn $100 bonus when you open a Huntington Business 100 Checking account and make total deposits of at least $2,000 within 60 days of account opening. The $100 bonus will be deposited into your account after all requirements are met. This account is ideal for start-ups and small businesses with lower balances and checking activity. Apply Now---

Huntington Business Checking 100 Review