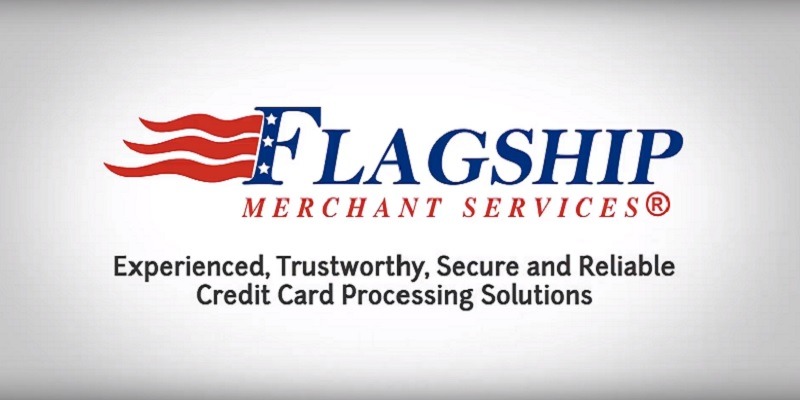 Flagship Merchant Services is a payment processor that is directly from iPayment. To find out if Flagship Merchant Services could benefit you, continue reading the review below.
There are no setup fees nor ETFs upon account setup because Flagship Merchant Services operates on a month-to-month basis with low costs.
FEATURED CREDIT CARD PROCESSING

PROMOTIONAL LINK
LOAN DETAILS
REVIEW
Intuit Quickbooks Payments

Best for QuickBooks users.
In-Person Payments:
2.40% & 25 cents per transaction

Online Invoices:
2.90% + 25 cents per transaction
Review
Square

Best low-fee mobile card processor.
In-Person Payments:
2.75% per transaction

Online Invoices:
2.9% + 30 cents per transaction
Review
Flagship Processing Solutions 
Flagship Merchant Services has various products and services that are ideal for restaurants, mobile businesses and of course eCommerce.
Merchant AccountsPOS System & Smart TerminalsFree Credit Card TerminalPayment Gateway & Virtual TerminalMobile Processing
Merchant accounts from Flagship Merchant Services are actually set up through iPayment.  Since Flagship is a provider, their direct source derives from iPayment.
Sometimes First Data can also be used.
Flagship uses Clover's POS and other smart terminals. These can be integrated in over 200 business apps.
| Features | Flex | Station | Mini | Mobile | Go |
| --- | --- | --- | --- | --- | --- |
| Magstripe | X | – | X | – | – |
| EMV | X | X | X | X | X |
| NFC | X | X | X | X | – |
| Printer | X | – | X | – | – |
| Camera | X | – | X | – | – |
| 3G/WiFi | X | – | X | – | X |
Retail merchants may be eligible to a complimentary credit card terminal when you set up your account.
If you prefer to use your own terminal, however, Flagship can also reprogram it for free.
Flagship currently offers the Verifone VX520 terminal that accepts both EMV and NFC payments.
eCommerce merchants usually have the option to choose between using Authorize.Net or another gateway service.
Although setting up an account for either is free, you still have to pay a gateway fee of $7.95 per month.
Payment gateways like Quiq include a shopping cart and APIs that you can integrate into your website.
Flagship utilizes iPayment's mobile app, MobilePay and card reader.
You can download MobilePay on either iOS or Androids, and the card reader is compatible on tablets.
The app and card reader are free, but there is a monthly service to use the service.
MobilePay also features a merchant portal where you can manage your inventory, view transactions and other reports.
Value Added Services
In addition to the already offered services, Flagship also has additional ones that you can add to increase value.
Business Management Portal: Every Flagship merchant account comes with iAccess to help you monitor your business reports.
Merchant Cash Advance: This feature is best for small and medium sized businesses. You can get up to $150,000 in cash advances.
Gift Cards: You can always add gift cards to your business to increase customer retention. It is also an easy way to gain loyal customers.
 Digital Loyalty Program: Having a loyalty or rewards program prompts customers to return back to your business. No matter what kind of service you run, customers enjoy being rewarded. This is also beneficial to the merchant because it helps them keep track of their customers' spending habits and demographics.
Pricing
Flagship's website has a general overview about their rates and fees, but there aren't full disclosures of processing rate plans or account fees.
Due to the constant change in numbers, Flagship can't necessarily disclose them. They also stated that they want to find the best rates for each customer.
Flagship offers tiered or interchange-plus pricing rate plans.
Customer Support & Satisfaction
Flagship Merchant Services provides 24/7 customer service, but it is recommended that you call during their business hours to get a guaranteed response.
Whoever sells you Flagship's service will also become an account manager for you.
All calls and email are kept in a log so Flagship representatives will try their best to address your issue on the same day you call about them.
Contract & Closing
As mentioned before, Flagship has no account setup fees nor ETFs since they operate on a month-to-month basis.
If you choose to close your account early, be sure to read all the terms and conditions listed in the contract.
Bottom Line 
If you consider the business you run to be either small or medium sized and want a merchant provider that will negotiate rates with you, then perhaps Flagship Merchant Services can provide the solutions you're looking for.
Their services are pretty simple and don't offer anything too complex, but they also aim to give customers the lowest costs and rates reasonable.
If you tend to have larger transaction volumes, then consider Chase Merchant Services instead, a direct processor that provides more security and is known for its top notch services.
For someone who's new to the business world and don't have that high of a transaction volume, then processors like Square can assist you in the journey.
If you are interested in finding out more information about card processors, then check out our Best Credit Card Processing Services to learn about all kinds of different card processors!