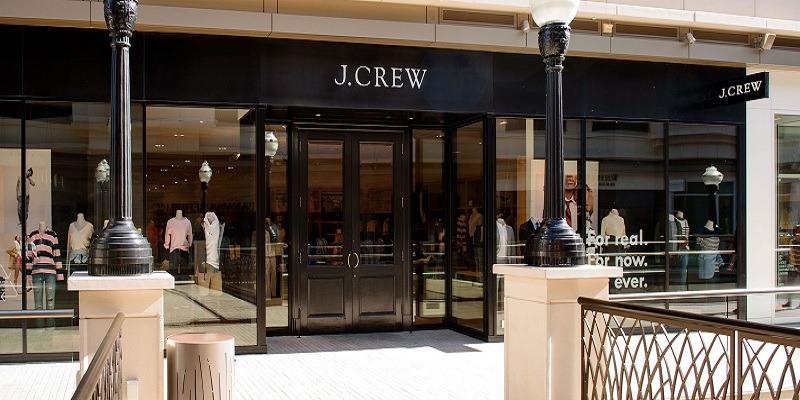 Find the latest J. Crew Promotions, coupons, promo codes, and money saving deals here.
Shop for a whole new wardrobe without having to spend a whole lot of money. Find great deals at one of the biggest clothing retailers this season! Be sure to check out all the J. Crew Promotions today. These are deals you definitely don't want to be missing out on.
About J. Crew
---
J.Crew Group, Inc., is an American multi-brand, multi-channel, specialty retailer. The company offers an assortment of women's, men's, and children's apparel and accessories, including swimwear, outerwear, lounge-wear, bags, sweaters, denim, dresses, suiting, jewelry, and shoes.
---
J. Crew Rewards Program
---
Get access to exclusive offers and earn rewards points when you shop at J. Crew by joining their rewards program. This program is the best way to make the most out of your money when shopping at J. Crew, especially if you shop there often.
How it works:
Shop J. Crew: Shop J. Crew online or in-stores using your account at checkout
Earn points: Members will receive one point for every dollar spent
Get rewards: Redeem your points for rewards. Every 200 points is redeemable for a $5 Reward
What is J. Crew Rewards?How do I sign up?How does earning work?How do I apply for a J. Crew credit card?I already have. J. Crew account do I need a new one for rewards?How do I merge two different accounts?Do all purchases count for points?How do I redeem my points?What happens to my points when I make a return?
J.Crew Rewards is a free U.S. loyalty program where more is more is more. It's like getting paid to shop! Plus, you're gonna love the benefits. You can find complete details, along with terms and condition here
It's free, easy and takes 18 seconds. All you have to do is create an account online or sign up with an associate in a J.Crew, J.Crew Factory or J.Crew Mercantile store. As soon as you're in, you get free shipping and can start earning points.
It's this simple: For every dollar you spend on qualifying purchases, you earn one point. For every 200 points you earn, you get a $5 reward to redeem on future purchases. If you're a J.Crew Credit Cardmember, every dollar spent with the J.Crew Credit Card earns you TWO points, which means you'll get rewards twice as fast!
It takes up to 30 days for points to completely process into your account.
You can apply for a J.Crew Credit Card online or in a J.Crew, J.Crew Factory or J.Crew Mercantile store. Plus, in addition to all J.Crew Rewards benefits, you get 15% off your first purchase, special birthday surprises and so much more. Apply now.
Good news! If you already have an account at jcrew.comor jcrewfactory.com, you're automatically a J.Crew Rewards member. That means you may already be earning.
If you've created separate accounts under different email addresses, we're sorry to say we can't combine them at this time.
Want to earn rewards quickly? We recommend using a single email address for every purchase, both online and in stores, across all our brands (J.Crew, J.Crew Factory and J.Crew Mercantile).
Any questions or concerns? Our amazing customer service team is here for you. Just call 800 562 0258.
Any purchase made at a J.Crew, J.Crew Factory or J.Crew Mercantile store or at jcrew.com or jcrewfactory.com in the U.S. counts for points. That includes both merchandise and services like alterations and monogramming. The points total equals the amount spent after promotional offers, but before taxes and shipping charges are applied.
If you buy a gift card, that counts for points, but if you redeem a gift card on a purchase, no points will be added to your account for the amount of that purchase.
Make sure that your purchases count by signing in before you purchase or linking and email address to your account.
Once you earn rewards, you can redeem them on online purchases by selecting the Rewards box at checkout. If you're shopping in stores, just provide the email address linked to your account at the register and the associate will apply your rewards for you.
When your return is processed, the total return amount will be deducted as points from your J.Crew Rewards account.
(Click the link above to learn about the program)
---
Current J. Crew Promotions
---
40% Off Full-Price Styles + Extra 50% Off Sale Styles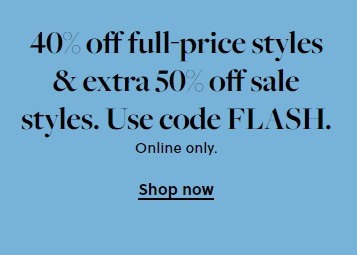 Promotion : 40% Off Full-Price Styles + Extra 50% Off Sale Styles w/ promo code FLASH
Offer expiration: April 18, 2022 11:59pm ET
How to earn it: Simply shop the qualifying discounted items and apply promo code FLASH to utilize this offer.
Terms & Conditions: Valid from April 17, 2022, 12:01am ET through April 18, 2022, 11:59pm ET. Not valid in stores; at jcrewfactory.com; or on phone orders. Cannot be applied to previous purchases or the purchase of gift cards and cannot be redeemed for cash. To redeem, enter code FLASH in the promo code box at checkout. Valid in the U.S. only. Final sale items cannot be returned or exchanged. Terms are subject to change.

(Click the link above to view the promotion)
---
Bottom Line
Shop for a whole new wardrobe without having to spend a whole lot of money. Find great deals at one of the biggest clothing retailers this Summer! J. Crew Factory is currently offering a promotion where you can get a ton of clothes without spending a fortune!
This sale will be over soon or while supplies last, so be sure to checkout all of the products and choose the ones that you would like to buy for a cheaper price!
To further your savings, be sure to use a rewards credit card to earn points / cash back on your purchases! And to help you splurge, you can take advantage of these bank bonuses to earn free money!