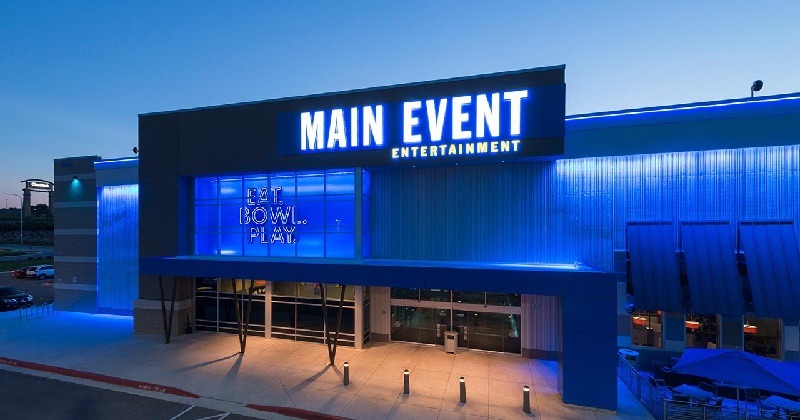 Find the latest Main Event promotions, discount deals, and coupons here.
If you want to explore the arcade with your family, you might enjoy this promotion! Right now, Main Event is offering a promotion where you can get all you can play arcade games and activities for $10.95!
This is a great deal for those who enjoy spending time with friends & family and enjoy playing arcade games too. Be sure to save this post if you like Main event because we will update it with more deals!
Note: Check out the following cards to earn one of the best flat cash back opportunities across all purchases: Wells Fargo Cash Wise card, the Chase Freedom Unlimited card, or the American Express Cash Magnet card! For a wider variety, see more credit card bonus offers here.
About Main Event
---
At Main Event Entertainment, we create unique, memorable experiences that are timeless and fun for our guests and team members. From our innovative, high energy operation centers, to our growing, collaborative team-oriented work culture, we thrive on our purpose to create unique and fun experiences for our guests. We love what we do, because we get to deliver fun to guests every day at 41 centers across the USA.
---
Main Event Activities
---
Main Event offers many different activities and arcade games to ensure that you will enjoy your time there. For instance, these activities include:
Bowling: Whatever your skill level, you're going to love bowling at Main Event. Take pro-level lanes, add a state-of-the-art electronic scoring system and rocking surround sound entertainment system, and you've got a true Main Event experience.
Laser Tag: If your idea of fun is a little non-stop, pulse-pounding, adrenaline pumping action, then Main Event's Laser Tag is just for you. On a foggy, black-light, multi-level laser tag arena, it's team against team, as you find danger around every corner and fun every step of the way.
Arcade Games: We've taken gaming to the next level. Whether you're always on the lookout for the latest and greatest in interactive, virtual games or you prefer the classic arcade games, Main Event's Arcade has you covered. All ages and all skill levels welcome!
Gravity Ropes: A swaying bridge, balancing planks and a tight rope are even more thrilling when you're suspended high above it all. Hook your rig to the zip line and you're off to conquer sky treks on an extreme indoor ropes course. We don't defy the laws of gravity. We break them.
Billiards: Attention, pool sharks (and wannabe sharks): Inside every Main Event location you'll find regulation Billiards tables, classic Shuffleboard, our full bar and our chef-inspired menu. Basically, everything you need to let off a little steam and have a lot of fun.
Mini-Golf: Mini Golf at Main Event is a glow-in-the-dark, multi-dimensional challenge that puts your skills to the test. Our course is indoors, so the weather is never a problem. This is definitely not your granddad's golf course – though he's welcome to play. In fact, all ages are welcome!
(Click here to learn more about activities)
---
Current Main Event Promotions
---
$7.99 Unlimited Plays All-Day Per Activity
Right now, Main Event is having a promotion where you can play all day long for $7.99 for each activity! Spend a whole day of fun and unlimited rematches between you and your family or friends for a limited time.
Promotion: $7.99 Unlimited Plays All-Day Per Activity
Offer expiration: Limited time offer, limited number of packages per day
Availability: Valid in-center only
Terms: Activities vary by center. Offer , Sunday – Friday from open to close, in most locations. Promotion may end without notice.Not valid on video games, virtual reality games, food or beverage purchases. Not valid on group reservations. Activity time may be limited to space availability. Price does not include bowling shoes or tax. Main Event reserves the right to place up to five people per lane. Lane time may be limited to one hour, based on availability. Laser Tag and Gravity Ropes have a height requirement of 48" to play. Rock Climbing has a height requirement of 42" to play. Must be 18 years or older to be allowed in the Billiards area in the Baton Rouge location. See FUNdamentals (i.e. rules) at each Center for additional rules.
(Visit the link above to find out more about this promotion)
---
 $50 Value Gift Cards for $37.50
Sam's Club sells discounted gift cards for all of your favorite places, including Main Event. Usually you can get the $50 value pack for $39.98 however, right now you can save even more and get the gift cards for $37.50!
Promotion:$50 Value Gift Cards for $37.50
Offer expiration: November 6, 2019 or while supplies last
Availability: Sam's Club online or in stores
How to get it: Log into your Sam's Club account to save on your gift cards
(Visit the link above to find out more about this promotion)
---
Monday Night Madness
Right now, Main Event is offering a promotion where you can play arcade games and activities for only $10.95! This is an amazing deal for those who want to have a variety in what they choose to do at Main Event. This offer is valid every Monday from 4PM-close. Above all, this promotion can be used every Monday.
(Click here to learn more at Main Event)
---
Get $20 in FREE Arcade Play
Main Event is offering a promotion where you can get $20 in free arcade play! This promotion is set to expire December 21, 2018. Limited to one per guest during the promotional period. Arcade play will be added to a FUNcard as a bonus value and cannot be used as payment for other activity.
How to Get Free Arcade Play
Head over to the Main Event promotional page and click on the "Get Your Game On" button
Fill out the form to receive your $20 in Free arcade play and submit
An email will be sent to you with a single use bar code.
Redeem bar code at the bowl desk of any location by printing or displaying it via mobile.
Enjoy your free arcade play!
(Click here to learn more at Main Event)
---
Bottom Line
Main Event has always been a go to location for those that want to have fun. With these Main Event promotions, you won't want to miss out! If you visit Main Event often, be sure to save this post as we will continue to update it with more promotions. In addition, check our Freebies list! In conclusion, check out more ways to Save Money here on HMB!