Motif Investing Brokerage Account is a great way to get your money's worth through a single trade. One single stock trade currently promotion at Motif Investing platform is $4.95. They offer plenty of ways to customize your investments any way you would like. Head over to their investor friendly trading website and see for yourself what you can do with them. You can make your money talk for you just by using their services and strategically weighing investments to make the mo
**Offer Expired Below**
New $100 Promotion: Simply open a Motif Investing non-retirement account with at least $1,000 and make your first Motif trade to earn a $100 bonus. A motif consists of up to 30 stocks, ranging from Biotech Breakthroughs to Healthy and Tasty, costs only $9.95 per trade. You could also customize motifs any way you like – add or delete stocks and even change weightings.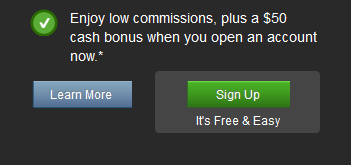 *Expired* Motif is offering an easy $50 cash bonus when you deposit $1,000 or more after you open a new brokerage account. Motif Investing is an online brokerage site that allows you to make diversified investments based on different investment ideas. You can look into specific investments and assess risks at the same time. There are no trades required for this bonus and the account must be opened by 8/31/2012. Also, your $1,000 deposit must stay in the account for 50 calendar days. They even allow you to get more than one bonus per household if you use different registrations (such as two accounts, one as an individual, one joint with spouse).
From the site:
*The $50 cash offer applies to new Motif Investing brokerage accounts opened between 7/16/12 and 8/31/12 and funded with at least $1,000. Each customer may receive only one $50 cash offer for NEW accounts of the same type opened under that customer's name. A customer may qualify for additional $50 cash offers by opening other new accounts with a completely different registration, such as a joint account with a spouse. This offer is not valid for retirement accounts, such as IRAs, and cannot be combined with any other offers from Motif Investing. The new funds must be posted to the account by 9/7/12, and must remain in the account for 50 calendar days. The $50 cash offer will be credited to the account within 60 calendar days of receipt of the required minimum funding. This offer is not applicable to employees of Motif Investing and their respective family members. Motif Investing reserves the right to terminate this offer at any time.
Again, anyone can earn an easy $50 bonus from Motif Investing after they open a new brokerage account and deposit $1,000 by 9/7/2012. This brokerage site lets you diversify your investments and maintain a portfolio of 30 stocks at a time. This is a great site with a great bonus offer that has very simple qualifications. Sign up and add $1,000 to your account by 9/7/2012.
Discover more brokerage bonuses!