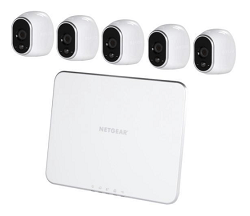 Get a home security system that will help keep you safe and your home secure. It's time to get the Netgear Smart Security System now for a great discounted price of only $349.99 + free shipping! Feel at ease with these cameras now whenever you're not home. With HD resolution, wireless cameras, motion detection, and night vision, security just got even better. Not to mention, these cameras are weatherproof, so you can put them indoors or outdoors! You'll also receive the Motion Alerts application and free Cloud Storage for all recordings. Hurry now and snatch this hot deal, because this is a great investment to make for your home. To maximize your savings, be sure to use a rewards credit card and/or pair it with a cashback portal so you can earn points/cash back on your purchases!
Netgear Smart Home Security Features:
100% Wire-Free for setup
720p HD Video Outdoor-Ready Night Vision
Motion Alerts Free App & Cloud Storage Motion detection
Adjustable sensitivity and automatic email alerts
Push notifications and alerts
Bottom Line:
The Netgear Smart Security System will surely keep your home protected and will allow you to go out without any worries. This system is dependable, convenient and will definitely save you money, especially at eBay. For only $349.99 + free shipping, you'll receive the Netgear System, and 5 HD cameras to install in your home. This product usually costs $599.99, so that'll be 41% in savings! Invest in this product to keep you and your home secured. If you want to save more money, you can purchase discounted gift cards and perhaps save even more money with the best cash back shopping portals!