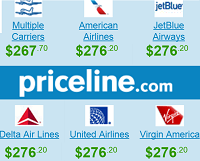 Priceline has Cheap Non-Stop Roundtrip Flights for as low as $276 to/from New York NYC – San Francisco SFO for fares between February to April. As of the time of this posting, I saw several flights available Monday through Thursday but there were some weekend flights available as well. If you are flexible with which carrier you fly, you can choose multiple carriers for your trip and save another $9 per traveler. Name Your Own Price bookings, Express Deals, and any reservations where the full itinerary is not disclosed prior to purchase are non-refundable, non-changeable. Cancel and change rules vary by airline and fare purchased. The airline fares rules associated with your flight can be reviewed pre-purchase on your contract and post purchase within the itinerary displayed on their website. There are several carriers offering this fare.
Cheap Non-Stop Roundtrip Flights:
Promotion: Round trip non-stop flights to and from New York NYC – San Francisco SFO for $276, bookable February to April of 2016. Best prices are for multiple carriers and originating from JFK airport.
Valid: Limited time, while available.
Terms: For FAQ you can contact Priceline at their Help page. Baggage fees are not included in your trip cost and will be charged directly by the airline at check-in. Airlines, for various reasons, your will be adjusted, most commonly flight times, prior to your departure. If your itinerary undergoes a schedule change, you will be notified of the changes via email. Please visit your chosen carrier to review all fare cost including taxes and baggage fees.
Maximize NYC – SFO Fare Deal:
Shop the Sale: YMMV! Choose your travel dates, usually weekdays excluding Fridays will give you the lowest fares. To save the most have flexible travel times, shift your dates by a day or two which will give you the cheapest price. Search one traveler first to see the lowest prices possible before you book. For this particular sale I find that flights departing JFK are the lowest.
Use Chase Sapphire Preferred to pay for your ticket, get the most from travel rewards including dining, rentals and lodging.
Bottom Line:
Shop the Priceline Cheap Roundtrip Non-Stop New York NYC – San Francisco SFO for as low as $276 while it's available. If you are traveling alone or don't mind layovers, the price per seat can drop another $50 for a connecting flight. I love the Bay City, where food, culture and art is in abundance. Similar to New York but with less concrete. You may not agree but I prefer Pacific seafood to Atlantic, unless its salmon. Gulf seafood trumps all so it's a moot point. Check out more ways to Save Money!