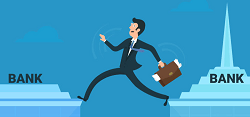 There are many reasons to switch bank, maybe your new bank is in a better location, has fewer fees, or has friendlier customer service. So if you planning on switching to a new bank, but don't know how or where to start? This step by step guide to moving your checking or savings accounts to a new bank can keep you on track.
Choose Bank
Choosing a new bank can take time since banks and their nonprofit equivalent, credit unions, are key to many of our financial lives. Finding a place that has branches and ATMs near you can be important, but also look for low fees and competitive interest rates, especially when it comes to checking and savings accounts. Make sure the new bank has all the service you use at your old one.
Opening a bank won't affect your credit score. Many banks screen potential applicants by looking at ChexSystems, it's a data base that shows any bad banking history, but no credit information. Some banks may do a soft or hard credit pull, but only the hard pull results in a dip to your credit score. This credit inquiry might occure if you apply for an overdraft protection program or line of credit when you open a checking account.
You can have accounts at more than one bank. Having accounts at multiple banks gives you access to the best qualities of different banks. For example, splitting your money between online and traditional brick-and-mortar banks will ensure you have both high interest rates and in person support when you need it.
List Bank Statements
Before you leave your old bank, slow down and take a strategic approach. Pull up a year's worth of bank statement, look for any annual subscription fees, you might have lost track of and review transactions via online banking to note any of the following:
Direct deposits
Automatic bill payments and subscriptions (monthly or annually)
Recurring transfers
Linked accounts
Also note any bank services you currently use, which may include:
Banking alerts via email or text
Mobile app
Paper checks
Safe-deposit box
Open New Account
Open the new account while your old account is still open and switch in stages.
Avoid costs in the new account: Make sure you know how to avoid the monthly fee, if there is one, andkeep enough money to prevent overdraft fees.
Keep some money in your old account: You should have enough money in y our old account to cover automatic payments or checks that haven't cleared and to avoid any minim balance fee.
Change any direct deposits: Update your finanical infirmation at work so tah tyour paycheck is sent to your new bank account.
Reschedule automatic payments: Schedule future bill payments from your new account once the first direct deposti foes through.
Check off the rest of your list: Go back to your planning list and address anything still left to do: order checks, rent a new safe deposit box, download the bank's mobile app and so on.
Please note that any old account information stored with a service provider — any credit card issuers, cable company, cell phone carriers — also needs to be updated. Some merchants will notify you when a payment fails, but other might not. That could cause bills to become late and pile up, which can affect your credit, so make sure you keep them up to date.
Close Old Account
Once all the automatic transactions have cleared, you're ready to close your old accounts. According to The Consumer Finance Protection Bureau, it is recommened to get a written document confirming that an account has been closed.
Banks sometimes reactivate closed accounts to fulfill automatic payments or depostis that come in. To avoid this the account should be emptied and closed at the same time after all direct deposits and automatic payments have been successfully rerouted. If you have any questions, talk to your old bank about its account-reopening policies.
Bottom Line
Fortunately, it's easy to switch banks when you break the process into small, simple tasks. Use the checklist above to make sure you've covered everything, so that your move to your new bank is quick and painless as possible!
See our list of Best Bank Promotions and compare options for which bank suits you the best! While you're here on HMB, check out more ways to Save Money!