Swagbucks allow you to earn free gift cards when you shop online, watch videos, take surveys, and discover deals and promo codes. If you don't have a Swagbucks account then you need to sign up for one today to take advantage of the sweet deal Swagbucks and York Photo are offering. You can earn 1,250 Swagbucks (a $12.50 value) on any York Photo purchase! We recommend getting a personalized playing cards for only $4.99 with promo code "GOFISH" so you are looking at potential profit of $7.50 in Swagbucks. Check out this limited time offer before it expires!

Swagbucks - Swagbucks is offering an exclusive promotion where you can get a $10 gift card when you spend at least $25+ on qualifying purchase within the first 30 days of signing up. This is a free cash back shopping portal with thousands of big name retailers to shop from. Out of the thousands of shops to choose from you can earn up to potentially 20% cash back. Sign up for the alerts about the latest and most popular promotions but be sure to make your $25+ on qualifying purchases within 30 days of registering to earn your $10 gift card! Apply Now---

Swagbucks Review
1,250 Swagbucks Promotion:
Promotion: Earn 1,250 Swagbucks
Promo Code: GOFISH
Expiration Date: Limited time offer
Availability: New York Photo customers only
Requirements: Swagbucks account
Terms: Users are eligible for SB if you don't have a York Photo account and never made a purchase with York Photo. SB will pend for up to 32 days before crediting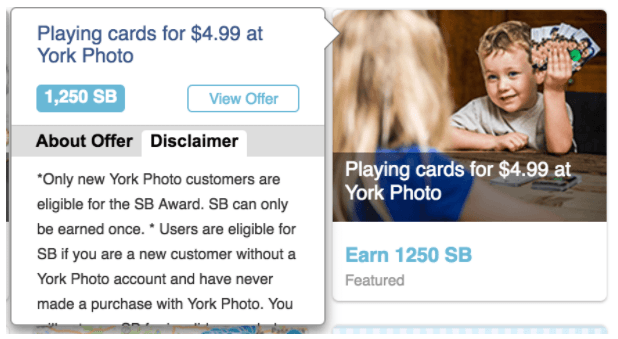 Earn 1,250 Swagbucks:
Navigate to Swagbucks.
Login or create a Swagbucks account.
Search for York Photo promotion.
Add a York Photo product to your cart.
Checkout and earn 1,250 Swagbucks.
Enjoy your bonus!
Bottom Line
If you are looking to earn some Swagbucks with minimal effort then this is the promotion you need to get in on. Earn 1,250 Swagbucks when you make a York Photo purchase, you must be a new York Photo member before offer expires. You can use the hard earn Swagbucks to purchase your favorite merchant gift cards and save money. Swagbucks is a great way to save money in general and always rolling out with sweet offers like this one so sign up for a free account today! For more ways on how to save money, check out our listings!