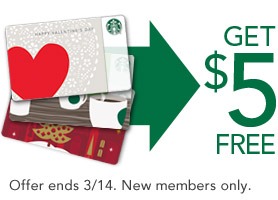 My Starbucks Rewards Program is offering a Free $5 Starbucks gift card for new members when you sign up and register between now and March 14th. If you don't have a gift card, go buy a $5 gift card and get your free $5 gift card bonus. As long as you have a different email, you can always sign up for more gift cards. Also, when it's your birthday, you'll get a FREE Beverage Credit that's usually sent to you in the mail.
By joining Starbucks Rewards, you will collect stars for every purchase using your registered Starbucks card. Once you collect 12 stars you can get a free drink or a free food item of your choice.
Currently, the participating Starbucks locations inside Target stores are offering a free pastry with any grande or venti espresso beverage purchase through March 3rd!
You can also download the Starbucks mobile app, create an account and get a digital card. With this option, your $5 credit will be loaded directly to your digital card within 24 hours!  This is a totally free program and cost nothing to join. Sign up today!

Hot Deal of the Day: OptionsHouse offers a Free Kindle Fire HD after 15 trades with a new account. Account holders enjoy low commission rates, powerful, fast platform and professional-grade tools.