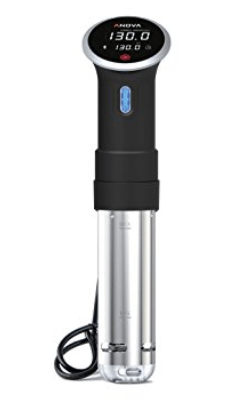 Do you want restaurant quality meat? Most restaurants and chefs use what's known as the sous vide, to cook their meat to perfection.
Only at Amazon, for the price of $60.80, get the Anova Culinary Sous Vide Precision Cooker so you can enjoy a whole new cooking technique known to be used by famous professional chefs from the incredible results. This cooking method produces restaurant quality results that are impossible to achieve through any other cooking method.
The food cooks evenly edge to edge, no hassle about constantly checking the meat for overcooking. With the Bluetooth connectivity feature, enable the device to start, stop and even monitor from your mobile device, so cooking just got a whole lot easier and tastier.
Anova Culinary Sous Vide Features
Heats and circulates water in the pot
Easy to use – just attach the cooker to any pot, add water, drop in your ingredients in a sealed bag or glass jar, then press start
Simple interface on the device to set the time and temperature manually
Bluetooth connectivity
Cook everything from meats, fish and vegetables to soups, and desserts
Bottom Line
This would be a great product for those who want to learn how to properly cook their meat without having the worry of overcooking. Test your culinary skills with this handy Anova Culinary Sous Vide Precision Cooker from Amazon for only $60.80! This discounted sous vide is light, easy to use, and is definitely worth because it'll perfectly cook your food to the point where it'll melt in your mouth. This product usually costs $99.00, so save up to $35 instantly! For more ways to Save Money, be sure to also check out the Best Discounted Gift Cards here at HMB!