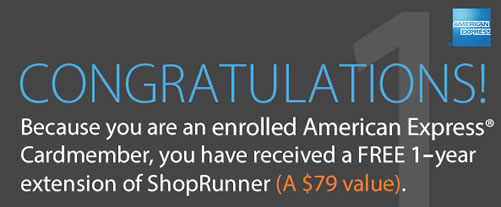 Just like Amazon Prime, Shoprunner is offering a free 1 year membership or 1 year extension to American Express card members when you enroll by May 15, 2014.  This will give you unlimited free 2-day shipping with no minimum order amount from such merchants such as Newegg, Babies R Us,  Drugstore.com, GNC, Sports Authority, and many more. Here are some example of consumer/business American Express card that qualify for this promotion:
Here's the fine print:
You can receive a one-year promotional ShopRunner membership if you enroll an eligible Card at www.shoprunner.com/americanexpress by May 15, 2014. An "eligible Card" is a valid American Express U.S. consumer or small business credit or charge card issued to you by the U.S. banking subsidiaries of American Express. All single-load and general purpose reloadable prepaid products (including, for example, the American Express Gift Card, American Express Prepaid Card, Pass, Serve, and BlueBird), American Express Corporate Cards and American Express-branded cards or account numbers issued by third party financial institutions are not eligible. In addition, you must put an eligible Card account number on file with ShopRunner during the ShopRunner enrollment process to receive this offer. This eligible Card account number will also be used to validate your eligibility for this offer with American Express and as your primary 2-click express checkout payment option when such option is available at the retailer website. If you have an eligible Card and already have an active ShopRunner membership, you may also enroll in this offer and you will receive the promotional membership at the end of your existing membership. Limit one promotional membership per eligible Card.
So sign up now for ShopRunner free 2-day shipping with no minimum order size, free shipping on returns, and special ShopRunner member deals for thousands of brands at a variety of stores. This is a a $79 value for the free 1-year membership offer for those with a valid American Express U.S. consumer or small business credit card.

Hot Deal of the Day: Betterment offers a $25 bonus for opening an account with a $250 deposit. A set-and-forget investment service that takes care of important details automatically.