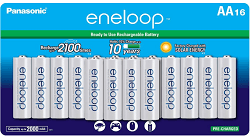 Are you tired of having to constantly purchase batteries? Well no problem, because Amazon is offering these high quality Panasonic Eneloop AA 2100 Ni-Mh Rechargeable Batteries 16 count for only $24.99 + free shipping! These days we are always relying on electronics to help with our day to day convenience, but these electronics are going to need to be powered! Why go through the hassle of repurchasing batteries when you can simply recharge these batteries at your own leisure? The battery itself is long lasting holding a capacity of 1900 mAh (milliamp-hour). Now that's pretty good! These deals don't last for very long, but you can always come back to HMB for another hot deal!
Panasonic Batteries Battery Features:
Recharge up to 2100 times

Maintain up to 70% of their charge after 10 years (when not in use)

2000mAh type, 1900mAh min, Ni-MH pre-charged rechargeable battery

Pre-Charged at the factory using solar power and ready to use

No memory effect – batteries can be recharged when fully, or partially discharged
Bottom Line
Talk about savings for reusable batteries! This product is very convenient if you're always in need of batteries. No need to struggle and repurchase batteries when you can just recharge them! Only at Amazon, get the Panasonic Eneloop AA 2100 Ni-Mh Rechargeable Batteries 16 count for a discounted price of $24.99+ free shipping now! The original price is $37.05, that's $12 in savings, and you'll get to enjoy all convenience that this product has to offer! If you want to save even more money, you can purchase discounted gift cards and perhaps save even more money with the best cash back shopping portals!