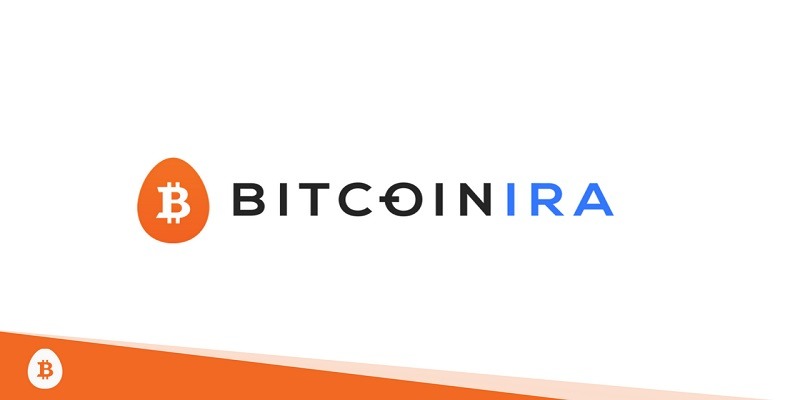 If you're looking to invest in cryptocurrency with your IRA, you can read our review of Bitcoin IRA services here.
BitcoinIRA.com is a trade platform that allows you to invest in Bitcoin, Ethereum, Ripple, Litecoin and more, with your IRA. With over 50,000 account holders, they are the world's first, largest and most secure cryptocurrency IRA platform. Continue reading below for more information about Bitcoin IRA.
(Click to learn more at Bitcoin IRA)
See our list of the best cryptocurrency offers here, including promos from Gemini, Voyager, Coinbase, Binance and more.
---
Bitcoin IRA Features
Eligible Retirement Accounts
 IRA
ROTH IRA
SEP IRA
SIMPLE IRA
403b
401k
Investment Minimum
$3,000
Investment Cap
None
Bitcoin IRA features:
A variety of cryptocurrencies supported, including Bitcoin, Bitcoin Cash, Ethereum, Ethereum Classic, Litecoin, Ripple, Stellar Lumens, Zcash and Digital Gold.
A feature-rich dashboard with live price tracking, portfolio performance, videos, education and more.
Tax-free advantages so you can maximize your account growth with tax deferred and potentially tax-free investing.
24/7 trading, so you can self-trade anytime and anywhere.
(Click to learn more at Bitcoin IRA)
---
Saver IRA Features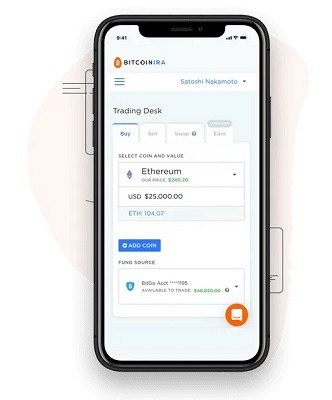 Saver IRA allows customers to contribute monthly and automatically invest in cryptocurrencies. You can start with just $100 a month and it features:
Monthly recurring contributions simply by connecting a checking or savings account.
Automated investing. Contributions are automatically invested into the cryptocurrencies you selected.
---
Interest Earning Features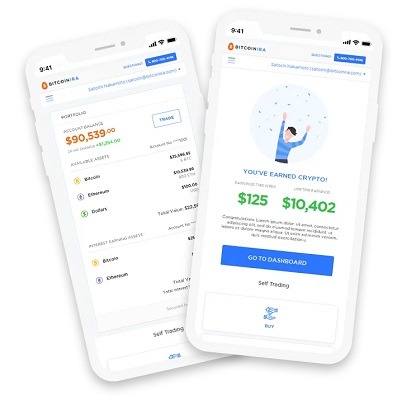 You can earn up to 7% interest on your retirement holdings. Some of these features include daily earnings, monthly payments, flexible terms, low minimums and zero upfront costs. Eligible assets include Bitcoin, Ethereum, Litecoin and Ripple.
---
Security Features
Keep your investments safe with BitGo Trust. Thanks to Lloyd's of London, they're insured for up to $100 million. For your privacy, your Bitcoin IRA is secured offline with 256-bit encrypted SSL certification.
---
How Bitcoin IRA Works
To start using Bitcoin IRA, follow these simply steps:
Simply create an account to get access to your customized dashboard and digital wallet.
Enter the amount that you want to invest, how you want to fund your account and your profile information. You'll be ready to trade in just 3 to 5 business days.
Start trading 24/7 in real time. Buy, sell or swap digital assets inside your self-directed retirement account by visiting the self-trading area in your Bitcoin IRA dashboard.
---
Bitcoin IRA Fees
There is an initial one-time service fee that may varies, depending on how much you investment. On top of that, there is also a custodian and security fee.
Comprehensive Bitcoin IRA services, including full support services for rollover of retirement funds
Complete set up of a self-directed retirement account with BitGo Trust
Best-in-class security storage
---
Bottom Line
If you are looking to start investing into cryptocurrencies, consider Bitcoin IRA as a service. It's easy to use from start to finish, and they've partnered with BitGo Trust so you don't have to worry about your funds.
If this service isn't for you, consider looking at more alternatives. Fundrise is an automated investing service for the real estate industry, and Masterworks allows you to invest in fine art for as little as $20 a share.
(Click to learn more at Bitcoin IRA)