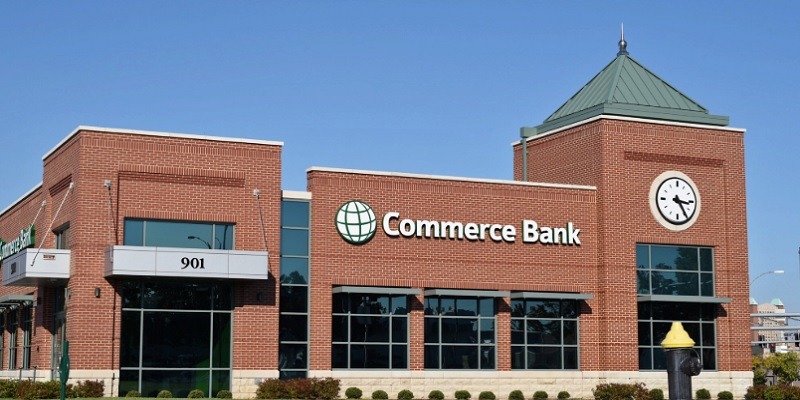 Located in the Midwest, Commerce Bank has a full selection of account options while encouraging personal goals. They have more than 100 branches scattered throughout the U.S. If you recently open an account with Commerce and don't know where to start regarding online banking,  continue reading below, you can learn how to make the most of your Commerce Bank account.
---
Log In from a Computer
The Commerce website makes it easy for you to log in to your account and manage your money from anywhere.
Go to CommerceBank.com. 
Enter your customer ID into the following fields on the left-hand side of the screen.
You'll be redirected to a login screen where you can enter your password as well.
Click "Log In."
If you're a Commerce customer, but still haven't enrolled in their online banking, you can do easily do it by:
Go to the Commerce Bank login page. You can also head to their homepage and simply click "Log In" underneath the customer ID field.
Click "Activate Online Banking" next to the customer ID field.
Read and accept the terms and conditions.
Select the types of accounts you hold at Commerce.
Enter your Social Security number, mother's maiden name, account number, amount of last deposit, date of last deposit, email address, bill pay preferences and enrollment code (if you have one).
Click "Continue." 
Then you will be taken to a page for the steps of activating your online account.
---
Log In From a Mobile Phone or Tablet
Commerce also offers a mobile banking app, available for free on  both iOS and Android platform services. The Commerce Bank mobile app has a variety of remote banking features from checking your account balances, paying bills, depositing checks, and more!
Get started by:
Download the app depending on your device.
Once it finishes downloading and installing, open the app.
Enter your login ID and password. You can also enable facial recognition or fingerprint access for quick and easy login if you have a device that supports it.
Click "Log In"
---
How To Retrieve a Forgotten Username or Password
You can recover your password with no problem by:
Go to CommerceBank.com.
Click the "Log In" button on the left-hand side of the screen.
For your password, click "Forgot Your Password?"
Enter your customer ID, aka username, last four digits of your Social Security number, last four digits of your card number linked to your account and the three-digit security code (the numbers on the back of your card).
Hit "Continue." 
If you forgot your username, you can't retrieve it online, you have to call Commerce Customer Support at 800-986-2265.
---
How to View Your Bank Statements
You can view your statements by doing:
Log in to your online account.
Go to the Account Activity page.
Click "View Last Statement" in the upper-right hand side of the page.
If you're needed to view statements farther back, go to the Accounts section and click "Statements." Use the drop-down menu to navigate which statements period you'd like to view. Please note that not every account offers statements online.
For the eco-friendly route, you can sign up for e-statements,  go to the Customer Service section of your account and click "Account Management." Then click "Statement Options" and follow the instructions.
---
Contact Commerce Bank Customer Service
You can contact a Commerce Bank representative from 8 a.m. to 8 p.m. on weekdays and 8 a.m. to 4 p.m. on Saturdays.
Online banking and bill pay: 800-986-2265
Mobile banking support: 844-782-7206
Speak to a representative (general): 855-659-1656
Account information line (available 24/7): 800-453-2265
You can also contact Commerce Bank through its Secure Message Center on your online banking account.
---
---
Bottom Line
Online banking can be beneficial for you because instead of having to visit a physical branch to conduct business, or mail out checks using the postal service, you can do it all on your computer or other devices.
In addition, check out the latest Commerce Bank promotions or read through our Commerce Bank review to learn more about their banking features!
Not your bank? If you're banking with another institution, you can check out our bank guide master list to help you with your banking questions or browse through our archives.  For more options from a variety of banks, see our list of the best bank promotions!