The Drop App (use promo code th6g5 to earn 5,000 bonus points) offers points on shopping purchases at top retailers like Amazon, Walmart, Target, select grocery stores and restaurants, and more. Just link your credit or debit card into the app, and you'll earn points and up to 2% back in gift cards from Amazon, Uber, Starbucks, Best Buy, and many other brands.
Plus, you'll earn 5,000 bonus points to get started, just for creating your account. In addition, you can earn an additional 5,000 bonus points for referring your friends to Drop. 1,000 points are equivalent to $1. Points can only be earned at five specific retailers you choose from a list of available retailers. After you choose from those five stores, it's not possible to change your selection, so choose carefully! Also, there is currently not a way to join the program unless you use an invite code. If you do have one, download today via iOS or Android!
Drop Loyalty App Promotion
Promotion: Earn Points and Cash Back Rewards & Get 5,000 Points w/ Promo Code th6g5
Availability: Nationwide
Additional Information: You can only choose from five select merchants to redeem cash back with
Requirements: Must link your bank information to get cash back
Terms & Conditions: Points will be shown within 5 days from purchase. Drop points have no cash, monetary or other value and cannot be converted into any currency. Drop points may be redeemed for various rewards that we make available, and that may change, from time to time. Some parts of the Services are supported by sponsored links from advertisers and display Drop Offers that may be custom matched to you based on information stored in the Services, queries made through the Services or other information.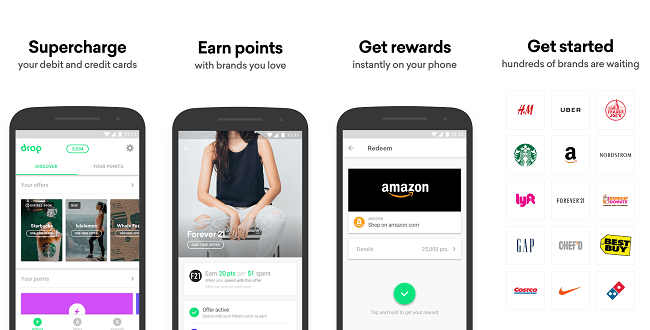 Get the Drop App Bonus
Download the Drop App via iOS or Android.
Use a referral invite code th6g5 to get 5,000 points just for joining.
Link a credit or debit card by inputting your bank information.
Choose the five retailers where you want to earn points at.
Any purchases you make with the linked card at your selected retailers will earn you points.
Enjoy your cash back and points!
Bottom Line
Shop til you drop with the Drop App! Download the app today via iOS or Android to start earning points and rewards at all your favorite places to shop. Apply the promo code pstls to earn an extra 1,000 bonus points today! Drop also has ongoing earn offers where you can earn up to 20x back per dollar, worth 2% back on your everyday purchases on top of any other rewards program you are a part of, including your credit card rewards or a store rewards program!
Points can be redeemed for gift cards from Dunkin' Donuts, Aerie, iTunes, Groupon, and more. We don't have a referral code to share with you guys, but if any of you have a referral code of your own, feel free to share in the comments down below! Don't forget to check out more ways to save money!