For the best deal everywhere, Groupon is here to help you out! Currently, you can get a $20 Regal Gift Card for only $10 if you are a new customer or if you've been targeted with an email!
If you're the type of person who likes to frequently go out and watch movies, this is a great deal for you! Use your Regal Gift Card on movies in participating movie theaters all throughout the nation. Purchase your tickets online beforehand, or use this gift card at the door when purchasing the ticket. Don't wait, buy it now!

Groupon Regal Information
Promotion: $20 Regal Gift Card for only $10
Expiration Date: For a limited amount of time
Requirements: You must have been targeted for this offer
Terms and Conditions: Limit 1 per person. The full value of the Regal Cinemas eGiftCard never expires. Redeemable in-store and online. Valid only in the U.S. FINAL SALE; no returns. See full terms and conditions. For questions regarding this offer, please contact Groupon. Not valid with Groupon promo codes. Invite only. Merchant is solely responsible to purchasers for the care and quality of the advertised goods and services.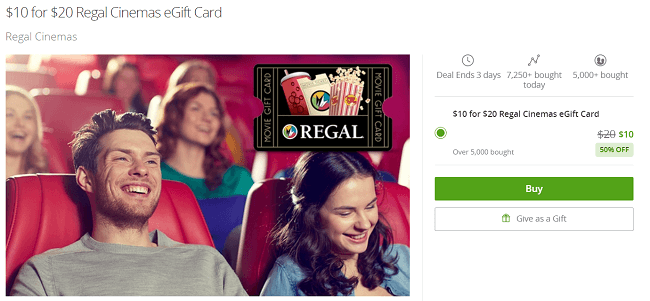 Earn 50% off Regal Groupon
Sign up for a new Groupon account. If you do not already have an account.
Check your email to see if you've been targeted. If you're unsure, you can simply click the "Buy" button and see if you're eligible.
Once you purchase this gift card, you'll get an email with your gift card. There is a limit 1 per customer.
Receive a $20 Regal eGift Card for only $10.
Bottom Line
If you plan on watching a movie, you should definitely go in this direction. Movie tickets can cost around $10 each, so you'll basically be getting a "2 for 1" deal if you go with a friend. If not eligible for this offer, new users are usually able to access these targeted offers.
There is no rule on making another Groupon account, so you might have to try that. If you've already tried it, let us know in the comments what your results were. If you want to find more ways to save money like this, check out our full listing!