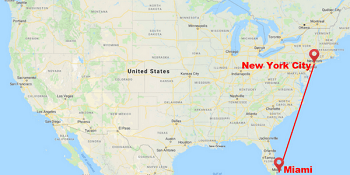 Priceline has Cheap Non-Stop One Way Flights for as low as $50 to/from New York NYC – Miami MIA for fares between January to August. Prices are reversible.
As of the time of this posting, most flights were available for $90 with a few as low as $50 so you'll have to be quite flexible in your travel plans if you want the get the absolute lowest fare possible. Majority of cheap seat are from American Air on Monday through Thursday but there were a couple of Friday and Saturday flights available as well.
Name Your Own Price bookings, Express Deals, and any reservations where the full itinerary is not disclosed prior to purchase are non-refundable, non-changeable. The airline fares rules associated with your flight can be reviewed pre-purchase on your contract and post purchase within the itinerary displayed on their website. There are several carriers offering this fare.
Cheap Non-Stop One Way Flights
Promotion: Priceline cheap non-stop one way flights NYC to MIA as low as $50
Valid: Limited time, while available.
Terms: For FAQ you can contact Priceline at their Help page. Baggage fees are not included in your trip cost and will be charged directly by the airline at check-in. Airlines, for various reasons, your will be adjusted, most commonly flight times, prior to your departure. If your itinerary undergoes a schedule change, you will be notified of the changes via email. Please visit your chosen carrier to review all fare cost including taxes and baggage fees.
Bottom Line
Shop the Priceline Cheap One Way Non-Stop New York NYC – Miami for as low as $50 while it's available. Always search flights for one passenger and add more travelers before booking. Price includes taxes and fees. Prices are not guaranteed until purchase is complete. Baggage Fees are not included in your trip cost. Check out more ways to Save Money!