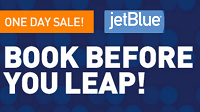 Book this Priceline JetBlue Nationwide Sale with one-way flights starting at $28.10, hurry as the seats are filling up. This sale is for fares on February 29 only. Although this is the lowest price for that travel date, there are more low rates for many routes and other days close to that price. You have until 11:29pm tomorrow to cancel a flight if you want a full refund or if you change your mind. To maximize your savings with this sale, book this low price one-way today and use any points you already have at JetBlue to book your return trip.
JetBlue $28.10 One-Way Fare:
Promotion: Book Select one way flights as low as $28.10 excluding black out dates.
Valid: Book for travel on 2/29/2016
Terms: Price includes taxes and fees. Prices are not guaranteed until purchase is complete.
Baggage Fees are not included in your trip cost.
Maximize $28.10 Priceline Fare Deal:
Shop the Sale: Choose your travel dates, usual weekdays excluding Fridays will give you the lowest fares. To save the most use JetBlue Fare Finder, which will give you the cheapest price for every day of the month.
Pay: When traveling use Chase Sapphire Preferred to earn the most rewards be it flights, dining or lodging. Or earn 3 points per dollar on airfare with the AMEX Premier Rewards Gold Card or the AMEX Business Gold Rewards Card.
Bottom Line:
This Priceline JetBlue Sale is only for travel on February 29 nationwide, but there are lots of competitive prices on a couple of days before or after if you are flexible in you schedule. Be mindful of your travel dates as some black out dates apply. Just be sure to use Chase Sapphire Preferred when booking so that you can earn as much points as possible on travel, that includes hotel, restaurant and rental cost. Check out more ways to Save Money!